90% of the time, fire spreads through the kitchen exhaust system due to grease build-up. Kitchen hood cleaning should therefore be undertaken on a routine basis to avoid cases such as this one.
A hotel in Cambridge has been destroyed after a chip pan fire tore up a kitchen flue before spreading to the rest of the building.
Around 40 guests at Lovell Lodge Guest House were evacuated after the fire broke out shortly after 7.30am on Sunday morning 5th June 2016.
Fire investigators said years of build-up of fat and grease in the extractor flue likely fuelled the fire which caused parts of the roof to collapse and severely damaged the first floor.
Emergency services had to lead a number of guests to safety after some ignored the early warning signs, according to Metro UK.
Six people were treated at the scene for smoke inhalation while one person was taken to hospital for precautionary checks.
Cambridgeshire Fire and Rescue Service released the pictures to show the extent of the damage: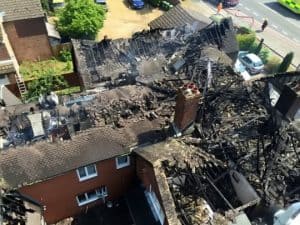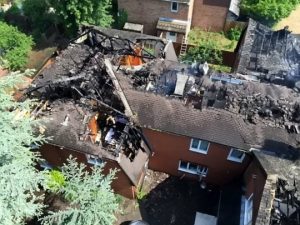 Fire investigator Pete Jones said: 'A cook lit a chip pan to start preparing breakfast but the pan caught fire.
'He attempted to put the fire out but it was too late as the flames had spread to the kitchen flue and then into the roof.
'It is likely that years of build-up of fat and grease in the extractor flue fuelled the fire, and we would appeal to all commercial kitchen owners to ensure regular kitchen hood cleaning is undertaken to reduce the risk of fire.'
Station Commander Wayne Swales added that the actions of the first crews on scene meant this fire was quickly under control and the building has not been completely lost.
A full fire investigation ruled that the cause of the fire was accidental.
Contact Shepherd Filters prior to your next kitchen hood cleaning so that you can stop up to 98% of airborne grease from getting past the filter. Shepherd Filters are made from 100% wool, which is naturally fire-retardant. With the Shepherd Filters solution. you can virtually eliminate the need for costly kitchen grease filter cleans and increase the length between routine (and expensive) kitchen hood cleaning!