"If you don't clean your extraction system regularly, you're at a greater risk of ducting fires."
A London Fire Brigade spokesperson said: "We'd like to remind restaurant and takeaway owners to make sure they don't have dirty extraction system ducting".
This message comes after four fire engines and around 25 firefighters from London Fire Brigade were called to the Pizza and Kebab House at 11:21pm on Tuesday, March 24 after a member of staff raised the alarm.
Staff at the takeaway shop, which also has several flats above it, were reportedly cleaning a charcoal grill when material caught alight.
The fire then spread through the extraction system which was full of heavy grease.
The blaze caused damage to the ground floor of the shop according to News Shopper.
There were no reports of any injuries, but part of the ground floor of the takeaway was damaged in the blaze.
Firefighters' top tips for restaurants and takeaways:
Have ducting in your extraction system (ventilation) cleaned regularly
Ensure ducting is installed correctly
Make sure all electrical items are tested and maintained- check regularly and don't allow employees to bring their own kitchen appliances to work
Ensure your electrical system is regularly tested
Complete your Fire Risk Assessment and make an emergency plan
When a restaurant is located in a larger building or complex, the risks increase exponentially. A fire in a kitchen extraction system in Heathrow Airport shut down three terminals, delayed or cancelled hundreds of flights, and generated hundreds of millions of dollars in losses that far exceeded the physical damage bill. That fire spread through 200m of exhaust ductwork to a plantroom before it was extinguished. In Australia, kitchens are reported as the number one source of fires in buildings, identified as the source of 25 per cent of all structural fires (up to 50 per cent in commercial buildings). Keeping kitchen extraction systems free from grease build-up also ensures that high HVAC hygiene standards are maintained, which is important in food preparation areas and required by food safety standards and local council regulations. Duct cleaning helps operators meet two regulatory responsibilities:
Fire safety; and
Food hygiene
Apart from the safety and health benefits, improved productivity through more comfortable staff – and reduced energy bills from clean fans and ducts – can also contribute to the bottom line (see 'Going the Extra Mile').
So how often should you inspect your exhaust system (and when should you clean it)?
According to AIRAH, the frequency of system inspections should relate to the usage of the cooking facilities which the exhaust system serves. For heavy use (12 to 16 hours per day) three-monthly inspections are recommended, for moderate use (six to 12 hours per day) six-monthly inspections are recommended, and for light use (two to six hours per day) 12-monthly inspections may be appropriate. The use of a depth gauge/grease comb is the best way to identify if there is an unsafe build-up of grease on internal duct surfaces. Readings of up to 0.05mm depth are regarded as a clean surface, readings of up to 2mm depth are acceptable. However, once over 2mm surfaces should be scheduled for cleaning, and any readings over 3mm indicate that immediate cleaning bu a qualified cleaning contractor is required.
Going the Extra Mile – Keeping the Extraction System Cleaner for the Long-Term
Sometimes, build-up between scheduled duct cleans (which can be every six to 12 months) can mean grease accumulation has again risen to a level of risk: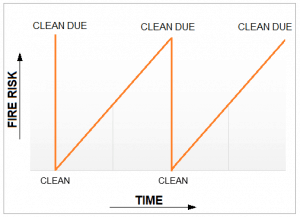 Shepherd Filters are working with commercial kitchens globally to once and for all get a clean system and keep it that way! Stopping up to an unprecedented 98% of airborne grease from getting past the filter and into the extraction system, Shepherd Filters ensure that grease build-up is heavily reduced for the long-term, safeguarding commercial kitchens from potentially devastating grease fires such as the one in this story. Instant savings can also be realised:
A decrease in labour/contractor cleaning costs associated with metal grease filters and exhaust systems

A reduction in the frequency and complexity of kitchen duct cleans

A decrease in water usage and the need for harsh chemicals to maintain a clean kitchen exhaust system; and

Cleaner rooftop fans, HVAC & other extraction equipment equals efficient operation, less maintenance & energy savings.
Quick, easy to install and disposed of in seconds, Shepherd Filters are a welcome alternative and our customers agree.
So contact us today for an obligation-free discussion on how we may be able to help you!