Next week fire victim, Jeremy Kronk will mark three years since a devastating fire which left him with third – degree burns to more than 50 percent of his body.
The serial entrepreneur, who has tried everything from selling golf balls to hand drying machines, spent six and a half weeks in a coma at the Royal Brisbane Burns Unit.
"It was touch and go a few times in the coma," he said. " When you wake up you are worse than a baby, you literally start from scratch. You don't know how to swallow, you don't know how to talk."
Mr Kronk spent a further six months recovering at the unit before returning home where he had to wear a burns suit for 18 months.
"My toes to fingertips, my whole face, was all covered. The suit holds your skin together because if it didn't your skin would scar really badly."
However, the accident which started from a bioethanol fireplace in his bedroom, has been the catalyst for a business that Mr Kronk hopes will be his last.
While recovering at home Mr Kronk started to research fires and came across a huge range of stories on restaurant fires. Passionate about ensuring that he does is part to minimise the amount of fire victim cases he comes across in the burns unit at Royal Brisbane Hospital, where he regularly now volunteers.
"I was fascinated with how fires start and why," he said.
"I came across this product (wool covers for kitchen grease filters) through a friend. Every day a commercial kitchen burns because of the grease build up in the exhaust system. I found that all these fires were happening because the filters were not working well and the systems were not being cleaned properly. All these kitchens are ticking time bombs"
Mr Kronk engaged with an American company, which produced kitchen grease filters, to see if he could improve the product.
"Most of the filters on the market only catch 20 to 40 percent of the grease, which leaved 60 percent in the exhaust system, hoods, canopies and ducts in commercial kitchens."
He developed a wool sheet using Australia crossbred or 'greasy wool' that he took to Elephant Rock Cafe in Currumbin for a trial in August 2016.
"Lots of people were trying to sell the product (a wool sheet for kitchen grease filters) but no one was successful," he said. "Everyone said it does not work. However the sheet worked really well at Elephant Rock Cafe so I took it around to Currumbin RSL and they started to use it as well."
Mr Kronk said the wool sheet will not tear or catch fire and soaks up to 98 percent of airborne grease.
"I found I could make it better in Australia with Australian wool."
Mr Kronks next step was to launch a manufacturing facility at the end of 2016 in Sydney, where the sheets are cut to size to fit all filters.
"We developed the product on the Gold Coast and our head office is here, so we're very much a Gold Coast company."
Mr Kronk said, following a battle with greast duct cleaers, who did not want to use the product, he decided to take another approach and sell direct to restaurants.
"I spent a year door knocking. I had a list and would go see everyone from the Mariott in Brisbane to little fish and chip shops. I travelled all over the world to try and sell them into Dubai and the UK. I travelled to trade shows."
Mr Kronk now counts McDonald's as a client in Australia and has sold between two and three million sheets, which sell for between $4 and $6, so far. He has offices in the UK and Japan and is planning further expansions.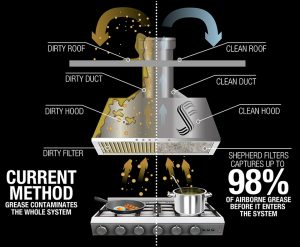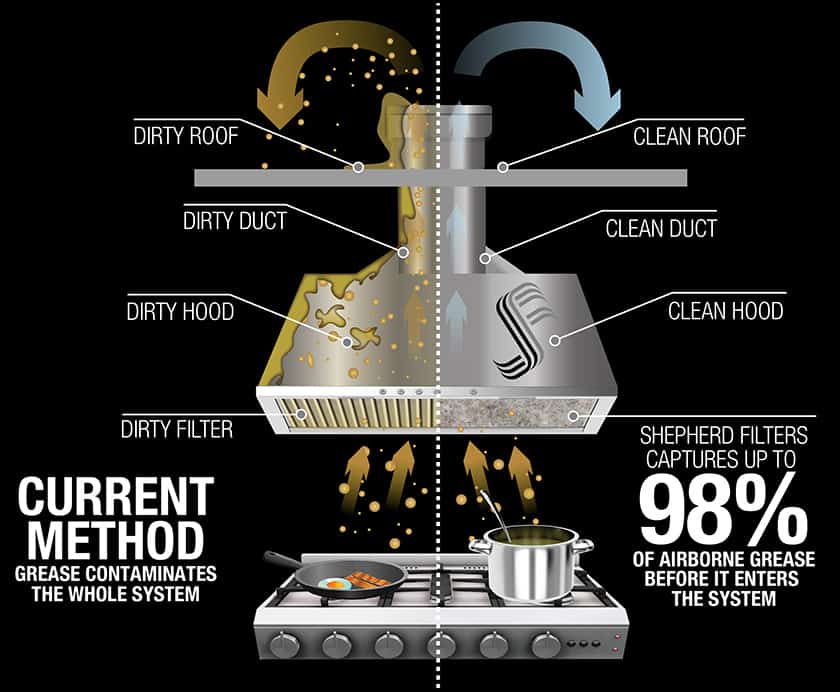 Don't become a potential fire victim yourself, protect those who dine at your establishment (or live above or around it). To find out more, clock here.