…who was actually responsible? Was it a restaurant owner who bypassed hood cleaning last month?
On a bitterly cold morning in early March 2019, Alex Garrote wandered down a quiet stretch of First Avenue in Manhattan's East Village. He was retracing the path of the New York Fire Department's trucks as they responded to a six-alarm fire between 11th and 12th Streets five months earlier. He wanted to have a look at the recovery that he figured had happened at a Japanese Restaurant in the time since the fire department's hoses and ladders surrounded the block. New York is an engine of progress after all, with sky-scraping property values demanding the most be made of virtually every square foot. Even with the city's byzantine building regulations slowing things down, space on this island couldn't afford to be left to rot for nearly half a year.
He was thinking over the events he had read about a few months ago. Shortly before 2:00 am on October 3, 2018, a fire broke out in Uogashi, a year-old Japanese restaurant on the ground floor of a 5-story residential building. It took 200 firefighters 12 hours to get the blaze under control, four of them being injured in the process. Two residents were also injured, and numerous apartments were made unlivable by the disaster. By the time it was over, several neighbouring businesses had been shuttered as well.
If a building is allowed to remain untended, unoccupied, and deteriorating, what does that do to the surrounding neighbourhood?
As he approached the row of five-story brick buildings, he was disappointed. What he had hoped were months of progress were actually months of decay. Uogashi's building was still shuttered top-to-bottom, and its first-floor facade was barricaded with metal and wood. Graffiti marred the entrances of several businesses that had closed from the fire, thickly spray-painted gibberish extending across the many ageing city notices posted on their exteriors.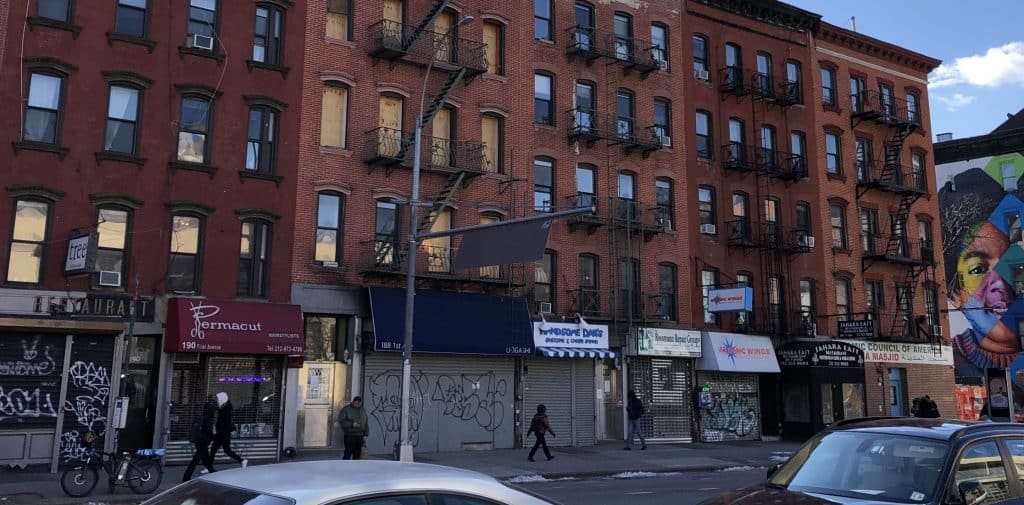 He rounded the block and found more devastation, as the rear of the building had become a depository of debris from the gutted restaurant. Behind chain-link and caution tape, chunks of the building and furnishings were piled high around an dormant backhoe. A dumpster occupied the neighbouring Community Garden, a city order to vacate also posted at its locked entrance. The Lower East Side Playground and a private school overlooked these eyesores, which made him wonder how many kids had jumped these fences to explore the condemned property.
The Broken Windows Theory of crime came to mind. It became controversial (what hasn't?) in its use as a policing mechanism, but the idea is easy to understand. Basically, an entire neighbourhood can go downhill if people show that they don't care about it. If vandals break a window and it goes unfixed, more vandals will break more windows. If litter is allowed to accumulate on sidewalks, more people will litter. If a building is allowed to remain untended, unoccupied, and deteriorating, what does that do to the surrounding neighbourhood?
Fortunately, signs that people cared about this neighbourhood were everywhere. Schools, a modern playground, and plenty of businesses and residential buildings lined the streets. In fact, it appeared the only ones who didn't care about the community were those responsible for the eyesore on First Avenue.
But who was actually responsible? Was it a restaurant owner who bypassed hood cleaning last month? An exhausted cook who left a fryer on after closing? Was it a fire inspector who allowed deficiencies to go uncorrected? Maybe it was a fire suppression technician who didn't properly service the hood system? Any of these, and many more, could have been responsible for what befell this neighbourhood, the people put out of work, the residents without a home, the injured firefighters and civilians. The news articles never placed blame.
It's now June 2019, Alex has long defrosted from his March stroll and eight months have passed since the fire at Uogashi. The restaurant remains closed, some say permanently. But like a forest after a wildfire, businesses are starting to sprout from the once-sooty buildings. Tree Bistro re-opened this week after a long hiatus caused by the fire that started three doors down. Hopefully the rest of the block will soon follow suit, and ensure fire safety as they do so—an entire neighbourhood is counting on it.
Kitchen hood exhaust systems and their impact on fire safety can be improved within the community. Systems need to be designed and installed in accordance with the established rules. After that, ongoing maintenance (such as routine hood cleaning) and inspection should be targeted to the actual usage of the establishment.
Fire statistics from Australia, the UK and the US show that fires in restaurants predominately occur in kitchens. The ignition of cooking materials accounts for almost half of all commercial kitchen fires and almost all of these (90 per cent) get into the kitchen hood exhaust system. Many restaurants never re-open after suffering a fire loss. This story is a classic and unfortunate example. Insurance policies may exclude claims related to unclean or grease-laden exhaust ducts. So now is the perfect time to check your hood and ensure you are following the appropriate hood cleaning schedule appropriate to your business.
The best way to protect a kitchen exhaust from grease accumulation is to prevent grease from building up in the first place. Shepherd Filters stop up to 98% of kitchen grease from getting into the kitchen exhaust. What's more, our disposable kitchen grease filters are naturally fire-retardant and safe for the environment!
Prior to your next routine hood cleaning, why not contact Shepherd Filters for a no-obligation risk assessment and stop grease build-up between cleans!