Kitchen Exhaust Cleaning in Australia
The kitchen is an important part of a hotel's operations. Keeping it running and reducing the risk of fire is therefore not something that should be taken lightly. Hotel engineers certainly have a lot of tasks to cover in order to ensure they have done all that they can to reduce risk and comply with the legislated standards.
Amongst these tasks is kitchen exhaust cleaning, which involves managing grease accumulation in filters, the hoods/canopies and all through the ducts to the fan. It can be an ongoing and expensive part of the maintenance program for any hotel. Failure to do these well can lead to a fire, voided insurance and other potential maintenance issues.
Both the Australian Standards and insurance policies determine the requirements and frequency for kitchen exhaust cleaning. AS1851 is the standard most people look to and it outlines both monthly and yearly tasks, but the open (or even ambiguous) definitions and inconsistent enforcement can lead to some taking shortcuts to save time and money.
Insurance policies may require more frequent kitchen exhaust cleaning activities  to take place (i.e. 6 or even 1-4 monthly regular cleans). In addition, policies may also require the insured to mitigate as much risk as possible if they could be reasonably aware of such risk.
The hotel engineer should know and understand the above requirements and ensure all work is completed properly. They should ensure they receive the correct documentation and certificates to confirm who did the cleaning work and when and to what quality is important. Checking their work personally is also strongly recommended.
Every kitchen has varying hours of operation with different styles of cooking generating different levels of grease. This is where understanding what is needed is prudent.
Excerpt from AS1851:
Monthly kitchen grease filters and hoods and plenums must be inspected for grease accumulation and cleaned – note more frequent than this can be subject to assessment; and
Yearly to monthly tasks must have all been completed and the ducts to fan checked and cleaned – note again more frequently can be subject to assessment.
Hiring a professional kitchen exhaust cleaning and/or filter exchange contractor is thought of as the best way to manage this task but it can have its own risks. Anyone can be a kitchen exhaust cleaning contractor, however at this time, no formal qualification is required in Australia. Staff doing the work are sometimes unaware of, or not trained to do the quality required to maintain safe kitchen exhaust systems. Vague reports and cleaning certificates should not be relied upon and certainly companies performing insufficient quality of works can leave a hotel at substantial risk.
Memberships to kitchen exhaust cleaning organisations can be bought for a couple of hundred dollars and will hold no value for suitable work.
Body corporate's and insurance companies may require certain documentation for compliance, however, in the event of a fire and an insurance claim, they may not help if the document has disclaimers to limit liability.
LOW OR POOR STANDARD OF CLEANS
HAVE YOU GOT WHAT YOU PAID FOR AND IS YOUR SYSTEM AS SAFE AS POSSIBLE?
 All too frequently, kitchen exhaust cleaning is not being done properly nor entirely. This can be due to:
improper quoting
not understanding the requirements
limited access levels; and/or
the customer not understanding what they have been quoted and paid for (the contractor may have set exclusions and "subject to" conditions).
Whatever the reasons, the risk can be great for both persons and property when not addressed. Here are examples of systems that appear to have been  untouched for more than 12 months: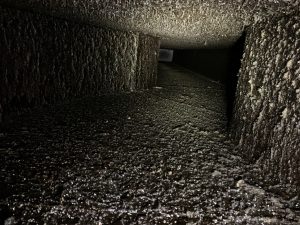 Frequently, systems are cleaned by either independent operators or large reputable companies. Some provide reports and certificates that on the face of it seem legitimate but may have hidden clauses such as "cleaned where accessible" or "canopy clean only", indicating that they were not responsible for the duct etc.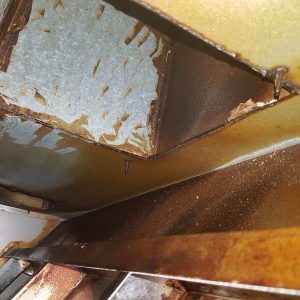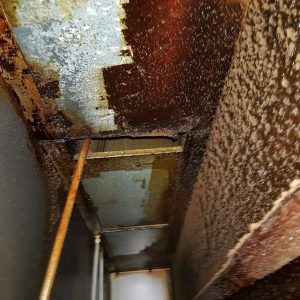 Sometimes it's just a simple matter of looking up, inside and not just through a filter hole. Sometimes access panels are required to get the job done. Sometimes contractors are doing just enough to get the right photos for reports. Moreover, the first time they might do a good job to impress but subsequent clean standards are sometimes lower.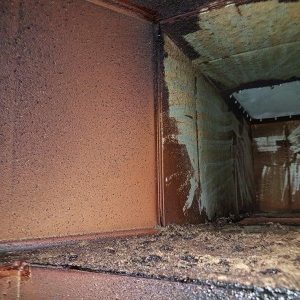 The photo below is an example of how an inspection panel was removed and enough area has been cleaned to get the photo for the report: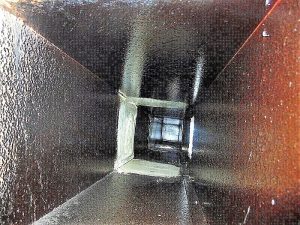 Checking your contractor's reports and undertaking a physical inspection is very important.
There are many ways for the kitchen exhaust cleaning contractor to limit their liability, and below are just a sample of some used in Australia:
Only stating the hood (canopy) and fan clean on invoice and report/certificate (i.e. the duct clean is not referenced)
Cleaned where accessible in fine print – only cleaned as far as arm's reach
Reports and certificates dated incorrectly
Incorrect standard on certificate – not relevant to kitchen exhausts
Wrong company name, address and ABN of contractor or using another company name and ABN
No customer name or date on certificate or reports
Using the same before and after photos on reports for the last three (3) years when the cleans are done every six months
Work done by company with no liability insurance and no value in company
Photos of another customers fan and duct-work for report purposes
Invoice for access panels installed when none have been installed
Certificate issued but cash payments only accepted or bundled with other works (HVAC)
Full exhaust cleaned in one of the hotel's kitchens but other exhausts are left untouched yet the contractor charges the hotel for all of them.
With the help of AIRAH members trying to establish better guidelines and means to ensure that better quality work is done, Australia is slowly heading in the right direction.
The USA and UK has implemented much more stringent definitions of what is required and who the works should be performed by and who should be checking for the compliance of these works.
PROBLEMS FROM GETTING IT WRONG
Maintenance issues can range from leaking ducts and roof damage to odour complaints due to reduced airflow from kitchens or fan failures.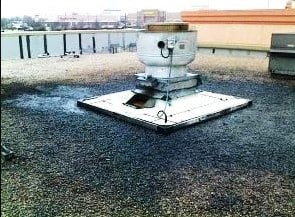 One hotel experienced a fan failure on a Friday due to grease build-up and improper cleaning. After rectification, the fan took four (4) days and the exhaust needed cleaning properly at considerable emergency expense plus staff wages, food wasted and lost income for the restaurant. A $30,000 issue was not insured due to problem deemed from improper maintenance.
Fires are however undoubtedly the worst problem that a hotel can encounter. Sometimes it can be very difficult to understand as to how and the damage can affect a lot more than just the kitchen. Recovering from such an event can take some time, and includes the loss of restaurant and hotel income, inconvenience to hotel guests, loss of staff (e.g. chef etc.) during repair works, or staff wages and much more.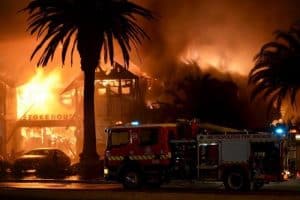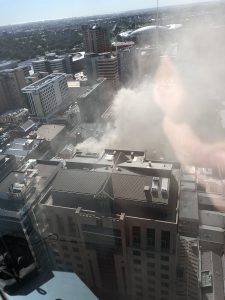 With lots at risk, it's simply just a matter of seeking out the right advice from reputable companies and checking works performed. Engaging or seeking advice from consultants and keeping up to date with new products and innovations entering the market can also assist with the burdens or managing kitchen exhaust grease.
Jeremy Kronk
Managing Director (Member of IKECA & AIRAH)
Shepherd Filters