KITCHEN GREASE FILTER REMOVAL TOOL PROCEDURE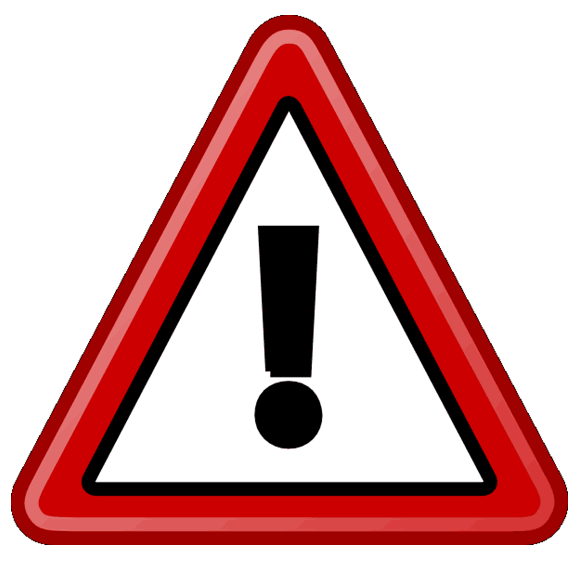 CAUTION
DO NOT ATTEMPT A FILTER CHANGE UNTIL COOKING EQUIPMENT HAS COOLED DOWN OR WHILST COOKING EQUIPMENT IS TURNED ON AND HOT.
ALL COOKING EQUIPMENT MUST BE COOL & COVERED. USE ONLY WHEN THE KITCHEN EXHAUST FAN IS OFF!
REMOVING SHEPHERD FILTER FRAME USING THE TOOL
To avoid the use of ladders and climbing
30-60 seconds per baffle filter
Prior to starting cooking equipment for the day or once cooking equipment has been turned off and has had enough time to cool down. For 24-hour restaurants, during low-volume periods following the procedure below.
RECOMMENDED TOOLS AND SUPPLIES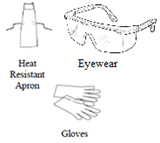 PROCEDURE
 Ensure you are wearing eyewear, gloves and an apron (heat-resistant is preferred).
 If someone is available to oversee the change process with you, this is also recommended.
Ensure fan is off, then lower any platens on grills, cover any fryer pots with their lids and/or remove any portable pots/pans from the cooking equipment beneath the hood
Prior to removing baffle filters and if cooking equipment is turned on 24-hours a day, you must ensure any hot substances are either removed where possible or covered with the appropriate accessories.

Remove baffle filters one at a time using the tool
Stand back from (not directly underneath) the hood. Slide the head of the kitchen grease filter removal tool between the outer frame and wool at the top until it can go no further upward. Slowly lift the filter out of its channel to guide it out of the hood and place it onto a flat surface. Adjust the tool head if necessary.
4. Begin kitchen grease filter change
Fold used filter inwards (so the trapped grease is folded away) and use the clean side to wipe the frame down before disposing of it in your regular waste bin.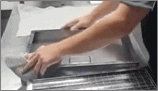 Replace baffle filters one at a time using the tool
Upon re-installation, make sure the baffles run vertically (up and down). This allows gravity to draw the grease down into the collection system. Angle the top edge of the filter so that it extends into the hood opening. Slowly lower the filter into its channel and the bottom edge should land securely in place.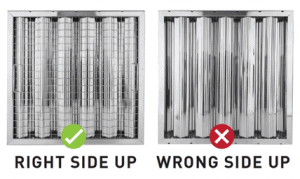 For a visual demonstration of the filter removal tool, please click below: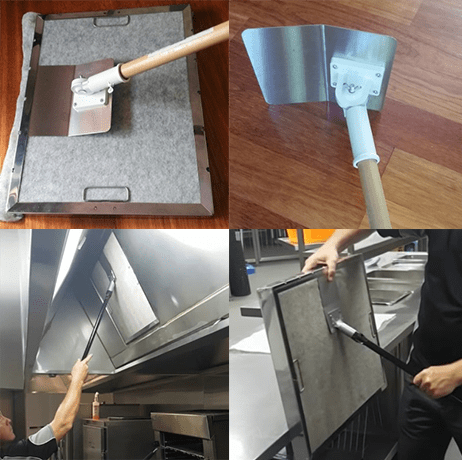 TOOL INFORMATION
NOTE – A thick handle will be required to fit this tool.