An extinguished building fire in Adelaide's CBD has caused thick smoke to blanket the city. Fire crews responded to reports of a fire in a kitchen on Leigh St — between Currie and Hindley streets — about 1.50pm on 14 August 2018. About 35 firefighters controlled the kitchen grease fire in minutes and luckily, no injuries were reported but the damage is estimated at $10,000 to $15,000.
This kitchen grease fire is believed to have started in this external kitchen flue after a build-up of grease.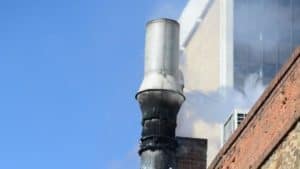 Dozens of office workers lined Currie and Leigh St when they first saw the plumes of smoke, taking photos as ash fell onto Leigh St. Witness Victoria said she could smell the smoke from around the block.
"I could see people standing and watching the smoke on the Hindley St entrance to Peel St," she said. "It was so thick there you couldn't see past the first few shopfronts. She continued to mention that "You could see the smoke pouring out on Leigh St and it looked like it was coming out of the restaurant Cos, but all of those buildings are attached so it could have been spreading."
There was a crowd of onlookers taking photos as ash was falling onto Leigh Street.
The MFS has issued a reminder to those with kitchen flues that regular cleaning and maintenance can prevent fires starting.
Another prime example of how the
Shepherd Filters Solution
could have prevented such a dangerous event from occurring in the first place. Shepherd Filters capture up to 98% of airborne grease before it even has the chance to enter a kitchen exhaust extraction system, reducing the amount of grease build-up dramatically and therefore decreasing the risk of fire.