At Shepherd Filters, our mission is simple:
"The more informed and empowered our customers are, the more satisfied and confident they are with their choices."
Metal kitchen grease filters are the first line of protection to prevent a kitchen exhaust extraction system from grease accumulation, which can lead to mechanical failures, decreased airflow and a potential fire risk. So commercial kitchens either clean their metal filters in-house or engage a filter exchange company. This is done daily to monthly, which can be:
Too frequent or not frequent enough
Time consuming
Costly in labour and chemicals
A waste of water
Unnecessary exposure to unpleasant chemicals; and
Environmentally unfriendly
The unfortunate thing about all of this is that typically, these metal filters only stop 20-40% of the grease. This invites the rest to pass through into the hood/canopy, duct, fan and roof spaces, resulting in a costly ongoing mess. According to Australian Standards, the grease that accumulates within the rest of the exhaust extraction system should therefore be checked and cleaned as required on a monthly, quarterly or half-yearly basis. This is usually outsourced to a contractor, attracting various costs. It cannot be denied that is also a very messy process:

Pilot lights and gas valves on appliances are shut down before covering them with tarps that will protect them from being splattered with grease and/or cleaning chemicals. Before the kitchen exhaust system is sprayed with chemicals and hot water, it is wrapped in poly plastic to create a funnel container that catches greasy water. Once the kitchen has been prepared, kitchen baffle filters are removed and soaked in cleaning chemicals for a couple of hours. The solution loosens grease build-up before they are pressure washed to blast away hardened grease. In the meantime, a kitchen hood cleaning contractor must venture up into the often-confined spaces to manually scrape thick grease build-up from the insides of ducts (and getting very dirty in the process). This procedure is then repeated on the hood/canopy. After hardened grease has been removed, a chemical mixture is sprayed and allowed to sit for 30 minutes to an hour. The kitchen exhaust fan is then removed and sprayed with cleaning chemicals from top to bottom.
During this time, they may also change the fan belt before cleaning down to the bare metal through pressure washing. Once the cleaning chemicals have done their job and loosened hardened grease, the contractor will blast out any remaining grease with a pressure washer. Since the contractor sprays from top to bottom, the greasy water runs down and collects in the plastic funnel made earlier. This messy exercise is usually done at night once the kitchen has cooled down post-service, or in the early hours of the morning while everyone else is otherwise home asleep. Some of you however, may have found yourselves being disrupted during busy operating hours!
It doesn't stop there as sadly, poor and inadequate cleaning can be done, wasting good money and still leaving kitchen exhaust systems exposed to fire risk. I know what you are thinking….
"There must be an easier way…!"
Enter the Shepherd Filters solution – revolutionary within the Kitchen Exhaust & Ventilation System Duct Cleaning market. As part of our mission, we are changing the way the industry operates for the better by making it smarter, cleaner, safer and more environmentally friendly.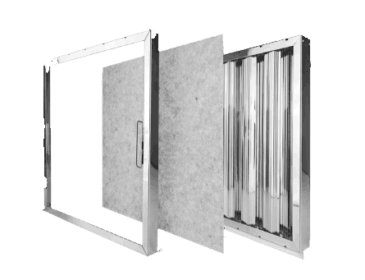 Made from 100% fire retardant and sustainable wool, our disposable oil and grease filters capture up to 98% of airborne grease before it even has the chance to penetrate the kitchen exhaust system. This results in significantly less grease accumulating inside the hoods, ducts and fan, leaving operators with a cleaner kitchen exhaust system all year round. Our mission realised, as your savings on routine cleaning begin immediately and past challenges with poor airflow, mechanical failures and the risk of fire will also diminish dramatically.

We have looked into a problem every restaurant faces and explained our mission to resolve it.
Now it is time to fix this costly and messy issue once and for all so that you can get on with what is important:
"Keeping your customers fed and happy!"