Ensuring your commercial kitchen has proper ventilation is extremely important and has many benefits.
Below is some great information that will basically explain kitchen exhaust ventilation, how to prevent fires and how doing these things will help you deliver better tasting food.
Improper exhaust ventilation can result in many breaches and safety violations as well as void of insurance, increased utility bills and decreased employee productivity.
It is important to remember that not all fire protection and fire safety installation services specialise in the designing, installing, testing and inspection of your kitchen exhaust ventilation system
Each ventilation system is designed specific for your commercial kitchen and needs to be a custom job fit out with multiple access points with everything twist and turn negotiated down to a fraction of a millimetre for the tightest fit.
Every restaurant has its own ventilation needs, problems and requirements. No two commercial kitchens are the same so it is important they are approached that way.
Insuring your kitchen hood has a tight custom fit is critical, it is important to investigate the fire protection services company that you have hired and a benefit if they have their own sheet metal fabrication facility. This is always preferred to save having a middle man and that way you can work with them to insure you have that tight custom fit that is critical in every commercial kitchen.
Again the duct needs to be air tight as potentially flammable grease particles can ignite and cause a fire putting your business and livelihood at risk every day.
Next you need to consider and make sure a proper ventilation apparatus is in place to push the bad air out and draw the good air in. This is referred to as make up air.
Make up air is clean, fresh, outside air that you need to bring into your kitchen to replace the air being expelled from the kitchen via the exhaust system.
Not having enough make up air in your kitchen can lead to poor air quality. Compliance factors then come into play due to commercial kitchen safety standards.
It is extremely important that your exhaust system is not only properly ventilated, but kept clean. Making sure you have enough access points to keep the interior of your system clean from grease is another consideration.
It is obvious that keeping your ventilation system clean is the best way to prevent a hazard and reduce your risk of fire or a kitchen filled with thick black smoke mid service.
Removing the grease from your kitchen exhaust system is typically done by scraping or cleaning/ washing with chemicals. A clean system is one in which it is clean down to bare metal.
This is very rarely accomplished and the build up of grease remains in place especially in hard to reach places therefore the risk of fire remains as high as before the clean.
Below is an example of a hood cleaned only where easily reachable and visible to the restaurant owner. This is a huge problem we see daily. The grease build up is very thick as you can see next to the small clean area. This is a huge fire hazard and an improper and negligent clean on the duct cleaners behalf.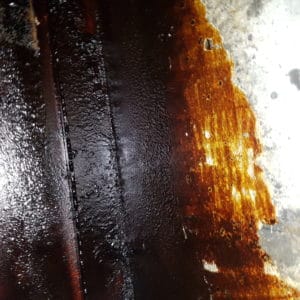 Shepherd Filters captures up to 98% of grease before it enters your hood. This is the smarter solution that saves time money and the environment. As mentioned above chemicals are lathered into the hood to complete the clean which eventually ends up in our environment.
Kitchen exhaust and hood cleaning inspections and cleans are needed on a monthly, bi annually and annual basis depending on the nature of your kitchen, business and what it is you are cooking.
Should you choose to dishonour these requirements your insurance could be void and your kitchen is at a high risk of fire or malfunction of the fan and or system as a whole.