Don'e let a build up of kitchen grease potentially ruin your livelihood.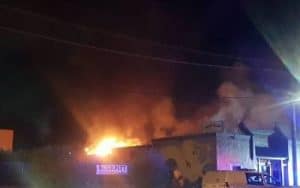 Above is a recent kitchen grease fire in a restaurant at Tamworth, which quickly spread through the exhaust ducting. 
HOW WOULD YOUR BUSINESS COPE WITH A KITCHEN GREASE FIRE?
Why pay insurance for the event of a kitchen grease fire? The money you receive will never compensate for the stress and worry if it happens.
Why not prevent the risk from being so great….!
DID YOU KNOW, NOT ALL FILTERS NEED CLEANING EVERY TIME?
Cleaning kitchen grease filters either yourself or with filter exchange can mean excessive costs.
Sometimes not frequent enough, sometimes too much.
Not all filters need cleaning the same frequency, so why are they?
ARE YOU SURE YOUR HOODS, CANOPY AND DUCTS ARE BEING CLEANED PROPERLY?
Waiting for kitchen grease to accumulate inside the exhaust is not a proactive way. Isn't preventing the grease entering the exhaust better? How often and frequently do you really need to get the hood, canopy and ducts clean to be safe? How can you really know the job has been done properly??? Do you check their work after duct cleaners have been to be sure… Insurance says it's your responsibility! Access can be restricted.
YOUR ANSWER – SHEPHERD FILTERS SOLUTION
Shepherd Filters are a disposable kitchen grease filter, easy to use solution for protecting your kitchen exhaust hood everyday.
Offering the protection you seek and value for money
Used by hundreds of restaurants, cafes, hotels and fast food chains worldwide.
Made from 100% Australian Wool in Australia.

Check out some of our videos for more information or to see how easy it is to install and replace Shepherd Filters.
Want to know more? Keep reading, or just contact us now! 1 300 364 777 or info@shepherdfilters.com.au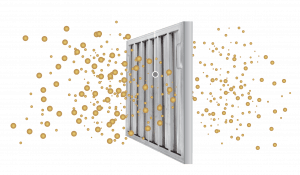 Regular Baffle Filters capture up to 20% of airborne grease leaving 80% to travel through the hood, into duct work and onto rooftop.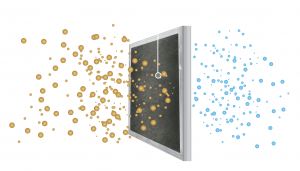 Shepherd Filters disposable grease filters are made from wool and capture up to 98% of airborne grease BEFORE it enters the kitchen exhaust system
IS YOUR HOOD/ DUCT CANOPY CLEANED AND COMPLIANT FOR INSURANCE? 
Insurance and Australian standards all specify the necessary minimum to keep risk of fire down. * NOTE – This is minimum and AS1851 says it can be more frequent.
The problem is, most are barely doing the minimum.
What is worse is that in Shepherd Filters experience there are some real problems within the industry. Cleans are being done daily by duct cleaning operators with no real experience, training or certification. Either this or they short cut their way through the job and do the minimum or what they know the customer will see.
          See this example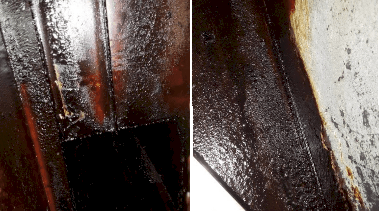 These two pictures are from inside a hood/ canopy literally 24 hours after a clean was done. The customer thought he got what he paid for, but this is a fire risk and the contractor only cleaned what was necessary to satisfy what the customer could access and view.
ARE YOU SURE YOUR SYSTEM IS AS CLEAN AS YOU THINK?
The cleaning of a hood/ canopy is different to cleaning costs for a full system clean.
Laws and standards talk about cleaning of filters and hoods and canopies monthly but the complete system from hood to fan on roof must be done every 6 months to annually.
Many pay for hood canopy cleans for a couple of hundred dollars but that's not what is required for insurance.
Frankly the cost to get the complete system cleaned can be thousands $$$$$
It can also be impossible as there aren't many access panels. To put access panels in will cost so much money and no one wants to do that therefore systems can go uncleaned for years, unaware the duct cleaner hasn't don't what they thought they needed.
Certificates are issued for just hood and canopy which is a monthly task by AS1851.
Neglect of duct can void insurance and there are court cases where duct cleaners were sued for negligence or the restaurant owner held liable for not ensuring they got the appropriate clean.
Grease accumulation also on the fan can reduce the lift and performance of the fan. Example here: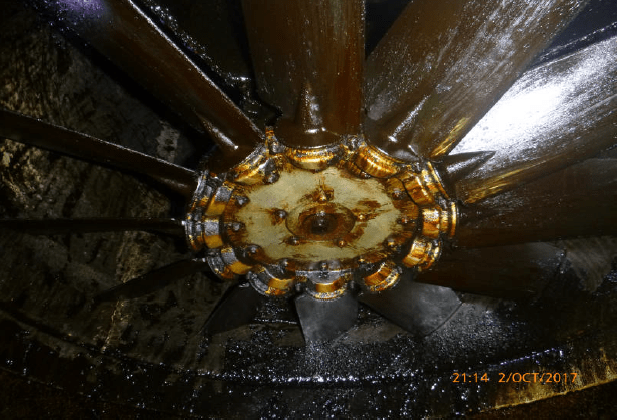 SHEPHERD FILTERS SOLUTION IS HERE TO HELP YOU!
We don't just want to save you money, we want to give you value for money and peace of mind.
With Shepherd Filters you are replacing only the filters that are dirty, not cleaning the ones that don't need it.
Stopping up to 98% of the grease entering the kitchen exhaust system means the duct cleaning costs are greatly reduced.
INSURANCE CERTIFICATE ISSUED TO SATISFY YOUR INSURER & GIVE PEACE OF MIND
Shepherd Filters satisfy insurance, as a system that is clean can be inspected very easily and reported as such and certificates done by reputable companies.
If this solution seems to make sense and you would really like to know more, contact Shepherd filters to get a thorough evaluation of what you are doing now and if we can we will inspect and give you a report.
We might not save you money if it's not being managed properly now but we can certainly get you what you deserve PLUS the benefits of the cleaner kitchen exhaust system every day. No more paying too often or not getting what you paid for. Shepherd filters won't lie. You can change what you need and only when you need to.
What now? Contact us and we will reply with an easy form for you to tell us what you are currently doing.