Shepherd Filters is UL1046 flame tested and has higher particulate filtration than most metal honeycomb and baffle filters.
Reduce your ESP and UV excessive maintenance.
Save on hood and duct cleaning costs.
Reduce exhaust fan failure
Save water.
Save chemicals
Save time
Reduce fire risk.
Environmentally friendly.
Support wool farmers. Support disabled workers
AUSTRALIAN MADE WITH 100 PERCENT WOOL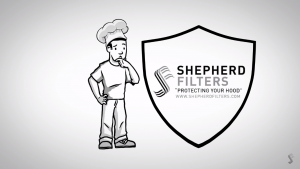 Different cuisine types produce varying amounts of moisture, grease, smoke and odour, and the resulting cooking fumes comprise a combination of solid particles, liquid droplets and vapour/gaseous-phase contaminants. Various kitchen exhaust treatment technologies are available, each with pros and cons affecting cost and performance.
The technologies analysed in this article include kitchen exhaust hoods, hood filters, ultra-violet (UV), multi-stage filter packs, electrostatic precipitators (ESPs), gas filtration media and ozone.
"Another Important aspect of the hood filter is fire safety."
HOOD FILTRATION 
 The first and often the most underutilised part of a successful kitchen exhaust filtration system is effective particle load reduction at the hood. Removing a significant load of particles here
will reduce the maintenance costs on equipment downstream.
Metal mesh/baffle filter
As grease-laden air passes through metal mesh/baffle filters with various obstructions to the airflow, the air constantly changes direction.
The resultant change in inertia causes the grease to be separated from the air and gather on the metal surface. All metal hood filters vary in the way they obstruct the airflow, but generally
the greater the obstruction, the greater the pressure drop and efficiency. Baffle filters can have an advantage as they are often self-draining and rigid, unlike honeycomb/mesh filters,
which collect and hold grease in place and can be harder to clean.
The UL1046 test determines the ability of hood filters to "Limit the projection of flames downstream when subjected to flames on the upstream face, after
having been loaded with grease in a manner representative of cooking that produces a grease-rich exhaust"[3].
A mesh/honeycomb filter that works by holding and capturing grease in place may not be effective, because this grease may act as a medium for the fire to pass through. Instead, look for a self-draining filter with plenty of obstructions to the airflow, as these obstructions can also limit the passage of flames.
Please check with your hood filter supplier and ask for a UL1046 certificate if required to ensure compliance.
Despite baffle filters being more expensive and having a higher pressure drop, they should be considered for fire safety, ease of cleaning and their higher efficiency, which lowers overall
operating costs of the kitchen filtration system. Maintenance documentation for these designs should clearly identify the purpose of the selected filters,
avoiding future substitution with inadequate alternatives.
Reference see article here for further information.