The Big Hospitality Expo will be the ultimate event for restaurateurs and chefs, casual dining operators as well as pub, bar and street food operators. The Restaurant Show, an exhibition also run by William Reed, that for over 30 years has attracted the UK's best chefs, operators and exhibitors, will continue as part of the new Big Hospitality Expo and will deliver even more for the restaurant sector.
Shepherd Filters will be located on stand GD51 at The Big Hospitality Expo being held from 26-28 September 2022 at Olympia London, targeting the hospitality industry of today – and the future.
William Reed is also bringing in 2022 Low2NoBev Show – a dedicated trade show for the low and no-alcohol drinks sector which will be co-located with The Big Hospitality Expo, as well as bringing Hostech, its hospitality technology content and event platform, to the show to deliver the vital tech and marketing innovations to help operators drive efficiencies, increase profits, and enhance the customer experience.
Whether you're a Chef, Owner, Director, CEO, MD or Manager from an independent or group restaurant, casual dining chain, pub, bar, hotel, cafe, contract caterer, travel, leisure establishment or street food operator, The Big Hospitality Expo will showcase the best products, services, and innovations in the market to help you and your establishment. Plus a packed agenda of industry insight, keynote sessions and panel discussions with industry leading speakers from across the industry will run throughout the three days.
The show will cover the whole hospitality spectrum, from food and drink through to technology and furniture with Low2NoBev, Catering Equipment Expo and Hostech running alongside providing you with the tools, ideas and networking opportunities you need to build your restaurant, foodservice or hospitality business.
Made from 100% fire-retardant wool, our disposable kitchen grease filters capture up to 98% of airborne grease before it has the chance to penetrate the kitchen exhaust system. This results in significantly less grease build-up inside the hoods, ducts and fan, reducing maintenance costs and leaving operators with a cleaner kitchen exhaust system all year-round. Savings on routine cleaning begin immediately and the risk of fire also diminishes dramatically. Made from wool, Shepherd Filters are fully biodegradable and a renewable resource. Protect your business (and help the environment) with a clean kitchen exhaust every day.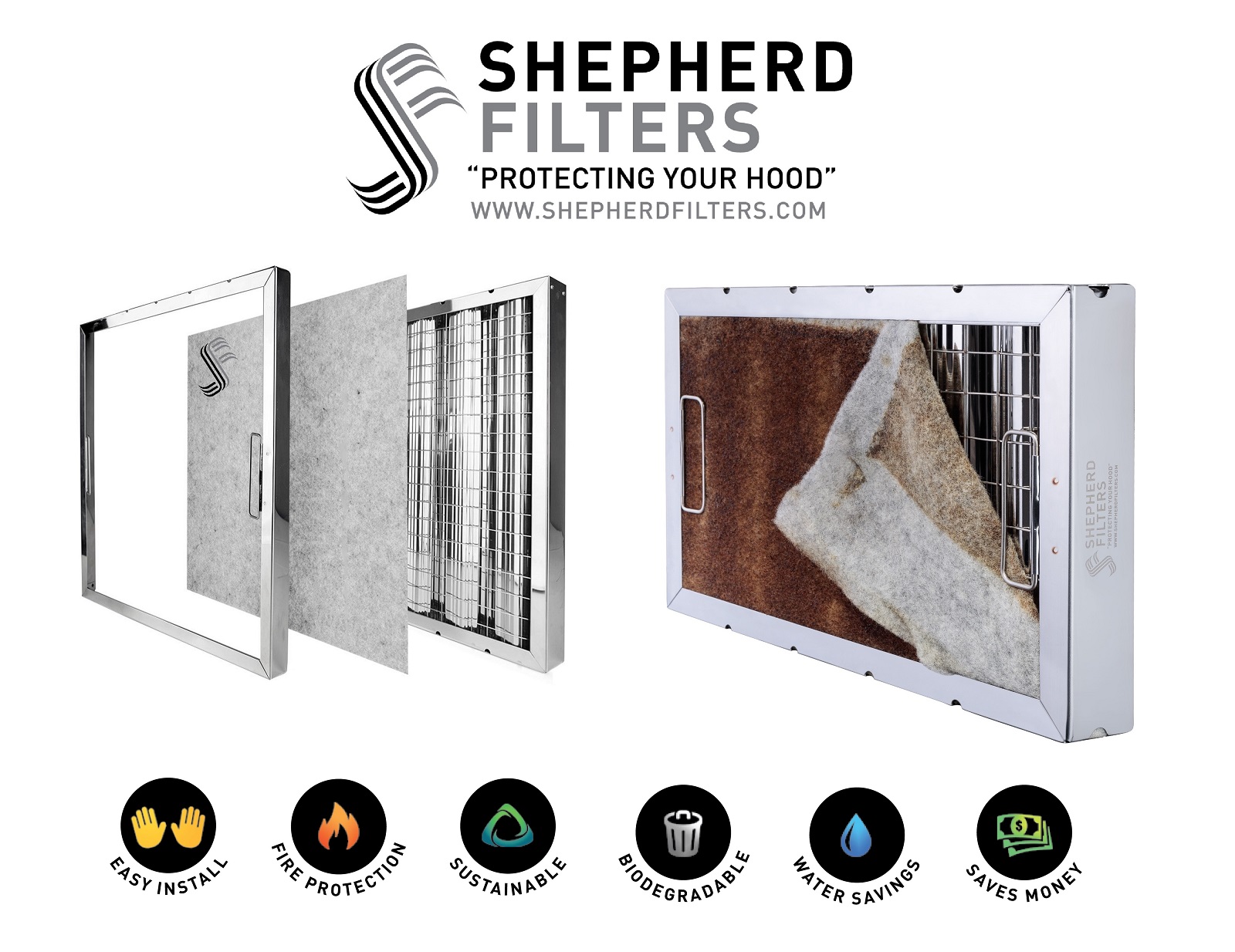 You can register for the show by clicking HERE
We look forward to seeing you!