Shepherd Filters is the ultimate solution for every commercial kitchen operation. Please see the comparison below and get in touch with us today. The choice is yours.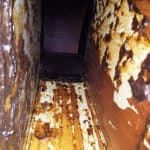 Filter exchange/ cleaning = costly
Filter exchange/ cleaning done too frequent or not enough
Filters stop only 20 – 30% of grease allowing too much to pass through into the hood/ canopy/ duct/ fan causing costly cleaning
Hood/ duct cleaners do a poor/ inadequate job causing grease build up resulting in costly cleans and fire risk
Water/ chemical/ labour to self clean filters
No interruptions to cooking staff
Harmful to environment
Dishwasher maintenance/ break downs if used to wash filters
Fire risk – Insurance void and non complient
Grease on fan = maintenance cleaning, excess load/ unbalanced fan failure = lost income
filters cleaned not frequent enough during holiday and busy periods? Too frequent during slow periods?
Unsightly grease dribbles in canopy/ hood
Filters need replacing from wear & tear
Non compliant to new Australian Standards
Capture up to 98% of grease before it enters the kitchen exhaust
Only do filters when needed
Reduced hood/ canopy/ duct/ fan cleans
Reduced odours
Environmentally friendly
Biodegradable
Renewable/ support Australian farmers
Protect from false poor cleans
Protect fans = stay clean
Reduced staff labour
Simple throw in rubbish
Takes 2-5mins