Since installation of Shepherd Filters around 6 months ago in Bistro 534 at the Gaythorne RSL, we have noted they capture a significant amount of grease.
Some filters require less changing than others, and the staff find filter changes quick and easy. The filter change chart is very helpful to know when to change which filters.
It's great to see the system being kept cleaner on the inside, and future maintenance is reduced.
The customer service from installation to training and ongoing supply from the Shepherd Filters team has been great.

Owner, Amici Restaurant Pizzeria
It is fast and easy to change out the Shepherd Filters, keeping our exhaust clean and we save on labour costs 👌👌 ….. time is expensive and Shepherd Filters reduces this [cost] dramatically!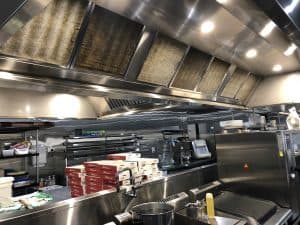 Learn more about how to keep your exhaust clean for longer with a fast and easy kitchen grease filter solution from Shepherd Filters today!

WA Food Ambassador, The Kitchen
The Shepherd Filters solution is of great benefit to The Kitchen simply because its streets ahead of any other filter system on the market. Shepherd Filters are way more efficient & cost effective than any other filter we have used in the past, and of course it's great to support an innovative Australian product! We currently have 3 different Hospitality Training Colleges, providers of Commercial Cookery courses plus various other caterers and small food producers that use The Kitchen and it's really positive outcome to be able to show the students the innovative Shepherd Filters way of extracting airborne grease generated from their cooking procedures.

If you want to learn more about all the benefits that Shepherd Filters can offer then click HERE.

Manager, McDonald's Gold Coast
The Shepherd Filters solution has been of great benefit to our McDonald's restaurant because it has minimised down time when cleaning kitchen grease filters and hoods resulting in more productivity in the restaurant.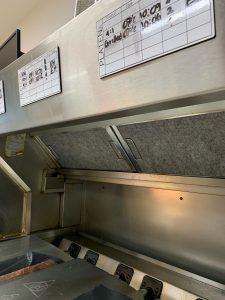 I would highly recommend Shepherd Filters because of the convenience and service.
Learn more about how productivity in your restaurant can improve with our kitchen grease filter solution today!

The filters are so easy to change.
We previously spent a lot of time cleaning and washing so it's a nice change to your filters.
We notice the grill filters have more grease but this is OK because the other filters seem to last longer.
Join the Shepherd Filters revolution, contact us today!

Owner, FinFresh Seafood Cafe
As a business owner, I want to know our kitchen exhaust system is cleaner, and seeing the grease on the filters shows me what's being stopped from going up inside the system.  Our staff find the filters easy to change, I was really surprised how long some of the filters last above the areas we use just for when busier.  We have quieter periods and busier times so it suits us.

Executive Chef, The Belvedere
I'm really happy with Shepherd Filters. They stop grease and the inside of our hoods are noticeably cleaner, our tracks are alot less greasy and our staff find the change schedule easy to follow in our large kitchen. The wool allows proper extraction but stops the grease.
We are happy with the result.

Manager, McDonald's Sydney
The changing of filters is faster and more time saving than our previous method of soaking, degreasing and washing of our filters. Previously we had outsourced cleaning of the hoods and ducts and fan quite frequently, but the stress of having to do this is now gone. We were spending significant time each night but now the changes are quick and easy to do.

Partner/Owner, Thredbo Burger Bar
In 2017 our business experienced a situation whereby our exhaust fan fins broke away from the motor and therefore without a functioning exhaust fan or hood, we were forced to close the restaurant until a temporary solution was installed and eventually all repairs could be carried out (3 nights trading). Our costs:
· Failed equipment replacement costs
· Labour costs associated with all repairs
· Staff wages
· Repair assessment costs
· 3 days of lost income
Estimated Total Losses $30,000 (approx.)
As a partner/owner of a busy restaurant (Thredbo Burger Bar) we are aware of the overheads associated with our kitchen. Monthly expenses for filter exchange services plus the cost of flue cleaning twice a year mount up for any busy commercial kitchen. Add to these expenses the cost of all other cleaning materials, labour plus insurance premiums and you realise the annual costs to any business are significant. As business owners, we try to plan for all contingencies including loss of business and the opportunity to claim against equipment failure. However all these contingencies are useless unless you can prove that you have met all the conditions of the policy.
Because Shepherd Filters capture up to 98% of all airborne grease particles, we now consider Shepherd Filters as an essential element of our insurance policy mix. By installing and using Shepherd Filters in our exhaust hood system we eliminate the worry of fire in the flue and also ensure that our flue system meets with our policy prerequisites. Not only have we addressed all of these issues we have also significantly reduced the cost of cleaning the flue due to the vastly diminished volume of airborne grease entering the flue system. By installing Shepherd Filters in our kitchen and when combined with our insurance policy, we can assure ourselves of our insurance investment.

General Manager, McDonald's Family Restaurants Gold Coast
Shepherd Filters have supplied our McDonald's restaurant with retrofitted filters during 2018. Their wool based filter and frame product retro fitted our existing hoods for vats and grills. These wool covers eliminated close to 100% grease from travelling up the hoods and fan units.
All work completed by Shepherd Filters is to a high standard with a pleasing end result. Staff and maintenance staff noticed a difference when these filters were fitted in the restaurant straight away. The filters are easy to change, fit and manage on a daily basis and was as cost-effective as completing ongoing duct cleaning.
Shepherd Filters are able to accommodate & work around the hours which suit our business with little to no interruption of our operation. They also provide ongoing support and hassle-free communication in regards to any questions. Supply was fast and efficient and I would recommend Shepherd filters to any business for safety and cleanliness of kitchen ducting.

Building Services Manager, Brisbane Convention & Exhibition Centre
We have installed Shepherd Filters to many of our Kitchens in the Brisbane Convention & Exhibition Centre and have been thrilled with the performance and the ease of changing them out.
The exhaust ducts remain almost grease free and we have cut right down on the frequency of our duct cleaning.
The staff at Shepherd Filters were easy to deal with and the training provided to our F&B chefs and stewards was very clear, precise and helpful.

Executive Chef, Dreamworld & WhiteWater World
"Since installing the Shepherd filters a couple of months ago, we had some good feedback from staff. The filters are easy to change and it takes not much time at all, no mess and a lot less dripping. Besides the initial set up cost, I can see some cost savings already and I'm sure that will increase long-term. The service from Shepherd Filters is really good with great communication and regular follow-up's. Thank you."

Owner, Siam Sunset Thai Graceville
"The filters above the wok area we change more than the rest, the frames are clean so we know that our system is being protected and its much better than before. The filter change chart is very helpful and thank you for your customer service and advice. It takes us around 5 minutes a week and we change the filters which need to be changed in the morning before lunch service.  We will be telling people about Shepherd Filters."

Executive Chef / F&B Manager, Copthorne Hotel, Wellington, NZ
"The Copthorne Hotel in Wellington was having issues with kitchen duct cleaning and was taken aback with the costs involved in keeping the hood, ducting and fan clean. We knew there had to be a better way.
Using Shepherd Filters kitchen grease filters, we found the three-monthly kitchen duct cleans could be extended to half-yearly and the half-yearly could be extended to an annual clean. Over time, the duct cleans have been dramatically reduced, which is saving the hotel an immense amount of money.
The restaurant does an average 300 to 400 meals a day for breakfast, lunch and dinner.
The other benefits the head chef has noticed is in the noise level reduction within the kitchen, which the dining public were previously exposed to. As this is in the back kitchen, the noise levels have dropped quite dramatically.
In the past, duct cleaners have set off the fire alarms in the middle of night, which created a huge headache for the hotel as it resulted in the evacuation of guests. With the requirement for duct cleans reduced, false alarms are a thing of the past.
Very happy!"

"We are very happy with our Shepherd Filters disposable kitchen grease filters.  They are easy to change, we have peace of mind with our system so were very pleased to be informed about this solution for our café."

"The disposable kitchen grease filters are super easy to change. We receive dozens of delivery orders daily, so we do find any disruption pretty difficult so this system works well for us, only takes a couple of minutes to change the filters fortnightly and we are happy to reduce the kitchen duct cleaning costs. We find it a really easy system."

Director of Engineering, Marriott Hotel
"We have found Shepherd Filters to be stopping grease from entering our kitchen exhaust system. As an Engineer of a large hotel I value the importance of peace of mind, knowing our system is protected. We recommend Shepherd Filters as a preventative maintenance solution for kitchen exhaust systems. Our staff have found the filters quick and easy to change without disruptions to service times."

Head Chef, Sandgate Post Office Hotel
" This is the first kitchen I've ran where my staff don't have to spend hours washing frames. It takes us around 10 minutes a week to change the wool filter sheets and you can see the filter above the char grill is stopping a lot of grease. We cook around 150 burgers or steaks on any day so normally those filters are disgusting in places I have worked after a few days. This way we just change the sheet when we've had a busy few days because you can see what's going on "

"We are noticing how clean the frames are when we change the wool filters and our ducts are much cleaner, the staff don't have to spend as much time cleaning the canopy as much less grease is dripping down. So we are very happy with this system after owning restaurants for over 30 years."

Chef, Ripples Milsons Point Sydney
"Changing the filters is really easy, we just change before we switch everything on, all of our staff follow your recommended filter change schedule on the wall so no disruptions to our preparation time as we are super busy.  The frames are clean when we change the filter, and we just throw the used wool filters in the bin so yes its very simple system.  I've actually notice that our ducts are cleaner and that's because we can see how much grease is there on the wool filters, so yes we can see how much grease is stopped from entering the ducting."

Owner, Harvest Cafe Bathurst
"We are very happy with our Shepherd Filters Solution.  We love that its 100% biodegradable and such a better way of capturing grease.  It only takes 5 minutes a week to change our filters and its made my life a lot easier as the last thing we want to do is wash frames and waste time.  The frame is nice and clean when we change the wool filter sheets.  I even told my local council about them when they inspected our kitchen exhaust system last week as they were very impressed, and I recommended they tell everyone."

"I found the wool filters very easy to change and was amazed at how much grease they stopped.  I can absolutely see all grease was stopped from going into my exhaust system no doubts."

"We are really happy with our Shepherd Filters.  As soon as we were told about this system, it immediately made sense to us.  We use very high quality products and oil and being the largest fish and chip shop in this area with hundreds of customers especially on a weekend, we want to know that our system is staying clean.  Our staff find the filters really easy to change."

Executive Chef, Flat White
"I am happy to say the Shepherd Filters are worth every cent. We have just had a new extraction hood fitted and are very impressed with the lack of grease build up. They are easy to change and definitely save on labour."

General Manager, El Guaca Mexican Grill
"Since installing Shepherd Filters, our system has been kept perfect throughout. I have inspected it myself a number of times thinking I will find grease in the ducting and inside the canopy due to the cooking we do, but it's still perfect, 100% clean. It's the best filter we have ever had as the others got very greasy, which meant we had to clean them 2 or 3 times a week and a couple of weeks after the deep cleans it was already getting greasy again. This saves us money on deep cleans and hours cleaning the filters during the week. We are very happy to recommend it!"

"Based on the cleanliness of the kitchen exhaust system pre and post-trial, we have determined that the Shepherd Filters have effectively maintained the cleanliness of the downstream internal surfaces of the kitchen exhaust system. If the entirety of the kitchen exhaust system was in a visibly clean condition and the Shepherd Filters installed and maintained as per the manufacturer's recommendations, it is likely that the cleanliness of the downstream internal surface of the entire system would remain free from excessive oil and grease buildup for several years."

Compliance Manager, New World Brookfield
"We are a large privately owned New Zealand Supermarket. We have one of the largest onsite, in store scratch bakeries, producing approximately 20,000 items per week with 25 staff. We have been using Shepherd Filters for the past 12 months and have noticed a significant reduction in the amount of build-up in our ducting system, so much so that our ducting cleaner has said that we could reduce from 6 monthly cleaning to yearly. This is a huge savings in our costs. We have also noticed an improvement in the efficiency of the extraction units, which has the flow on benefit of keeping better air quality in these areas and less consumption of electricity trying to suck dirty air through a sticky surface. There has also been a noticeable reduction of soils on the surrounding roof areas of the extractor vents. We are happy to provide a reference and have certainly benefited from its use."

General Manager, Turtle Cove Beach Resort
"We have received the Kitchen Hood Filter screens and installed them. I think it is the easiest and best way to catch the oil going up in the kitchen exhaust duct. No more grease hood cleaning needed, accompanied with high cost to get professionally cleaned. The filter pads are very easy to insert and there is no cleaning mess. When they have fully absorbed, just take them out and dispose, then insert the new filter pads. No more oil dripping, no more oil residue in the duct and fan that can lead to a fire. Thank you again for your help and service."

General Manager, Kilted Kangaroo
Shepherd filters have been a great way for us to cut down on time given over to extraction cleaning while maintaining great standards of safety and cleanliness. The ability to capture airborne grease at the point of creation and dispose of it in an environmentally friendly way is a major bonus in terms of efficiency and potentially the lifespan of the system.

Owner, Brad's Burgers Scarborough
"It's really handy in the fact you can just do it yourself, quick and easy. We were often chasing up the filter company and they can't get around to you before open times, so our service was disrupted when they would sometimes come in the middle of lunch. This way our staff change before we turn the kitchen appliances on and we can control it."

Owner, Café 389 Scarborough
Thank you for our Shepherd Filters system. It was really easy for me to change the filter sheets and your installation support has been wonderful. I was concerned about the state of our ducting, so now having a clean system is very important to me as a business owner, and the grease being captured shows the filters are doing their job.

General Manager, Barnacle Bill
"I run a very busy fish & chipper in Adelaide, and we used to have our ducting and canopy behind the filters cleaned every 6 months and the filters changed every month. Since getting the Shepherd Filters nearly 7 months ago, we only need to have the disposable filters removed and changed every 6 weeks. The ducting and canopy area behind the filters is still as clean as it was 7 months ago. I am pleased I went ahead with this product as it is not only saving me money, but also the inconvenience and hassle of the duct cleaning. I would be happy to recommend this product to others in the industry or anyone with a commercial kitchen."
CUSTOMER TESTIMONIALS FOR SHEPHERD FILTERS