THE ULTIMATE PROTECTION
In Disposable Oil & Kitchen Grease Filters
Capture Up to 98% of Airborne Grease Before it Enters the Kitchen Exhaust System
Australian Made with Australian Wool
WOULD YOU LIKE TO SAVE MONEY & REDUCE YOUR FIRE RISK?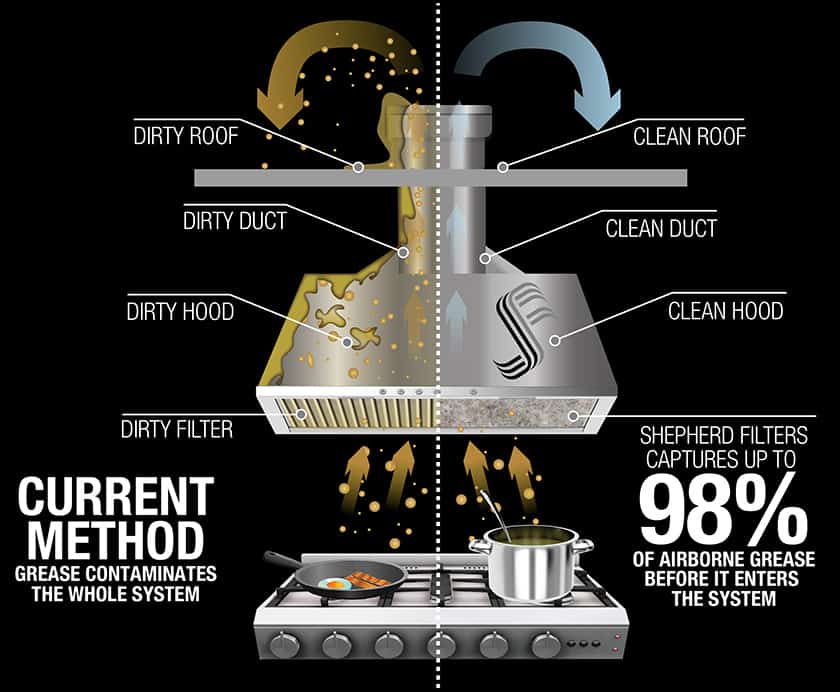 Restaurant Exhaust Cleaning & Maintenance for Grease Filters
Shepherd Filters offer an effective grease management system that eliminates the need for costly kitchen duct cleaning.
We provide sustainable fire retardant wool filters to capture grease before it enters the hood filters, saving you the risk of fire.
Disposable wool filters offer a greener solution that is easy to install rather than the use of excess water and chemical cleaners commonly used on exhaust systems today. You'll no longer have the need for kitchen closure and excess staff wages.
Our kitchen grease filters can be disposed of in the regular trash (as they are biodegradable), and offer you an environmentally friendly option for your kitchen canopy. With our innovative solutions for grease management customers, including Hotels, Restaurants, Clubs, Cafes and Sporting Venues, we are seeing benefits on an international level.
We are proudly distributing our product around the world in countries such as Australia, New Zealand, USA, UK, Ireland, Israel, Singapore and Japan.
Call us today to see how cost effective Shepherd Filters can be for your business.
SOME OF OUR HAPPY CLIENTS

why choose us
SHEPHERD FILTERS
Shepherd Filters disposable kitchen grease filters capture the grease before entering the kitchen hood exhaust system. This greatly reduces the grease build-up that enters the plenum, duct work, fans, and roofs, minimizing the risk of a catastrophic fire. Shepherd Filters are made from Australian wool, a natural fire retardant material.
Shepherd Filters kitchen grease filters are all natural and made from Australian Wool. The filter media is carbon-neutral and will breakdown in the landfill. In today's world we all need to do our part to help the environment, and this can save thousands of gallons/litres of water use in your kitchen.