FAKE KITCHEN EXHAUST CLEANING!!!
Shepherd Filters may be changing the way grease is managed in kitchen exhausts, but we are so concerned by the state of some systems we see and the risks people are taking by not checking the kitchen exhaust cleaning work that is being done by the duct cleaner.
Standards and insurance require kitchen exhaust cleaning to reduce the risk of fire. Cleaning contractors are paid to do this work and provide the certificate for work done according to standards.
What is scary and disappointing is the complete lack of integrity of some contractors. It's frustrating for those who are doing their jobs properly and it's wasting money to have a system unclean (putting people and buildings at risk).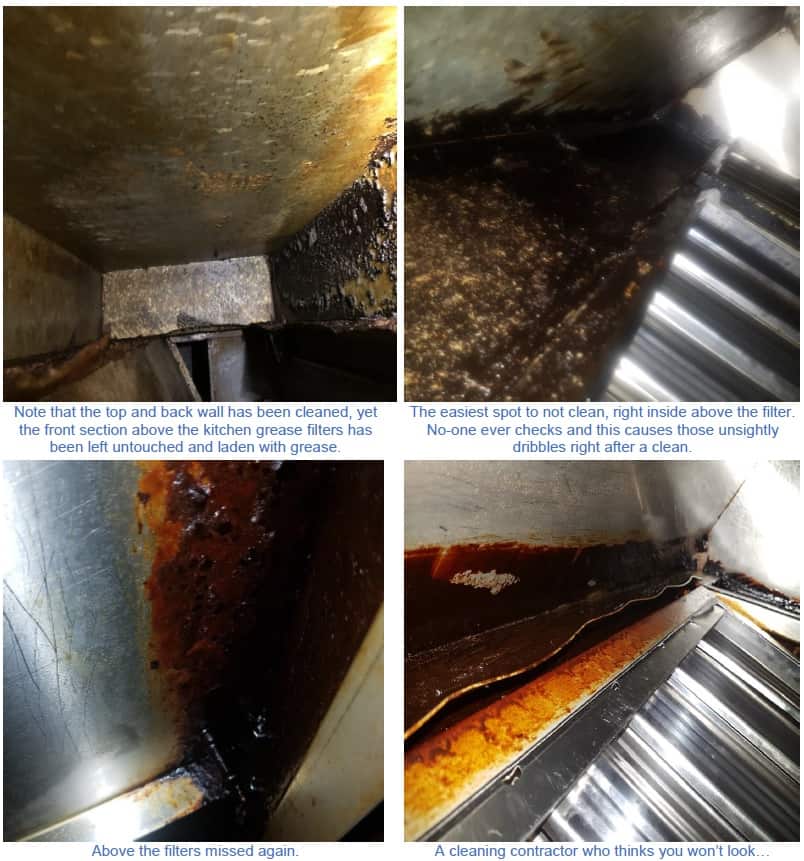 This is where a fire can start as flames will enter through the filter and go up.
There are some contractors who know that their work will never be inspected and therefore they will do the least amount possible. All too often the only parts of the system that is cleaned is what can be seen through the open holes in a canopy of hood when a filter is removed…. Look up, left, right and back towards the front and it's a completely different cleanliness than say the back wall.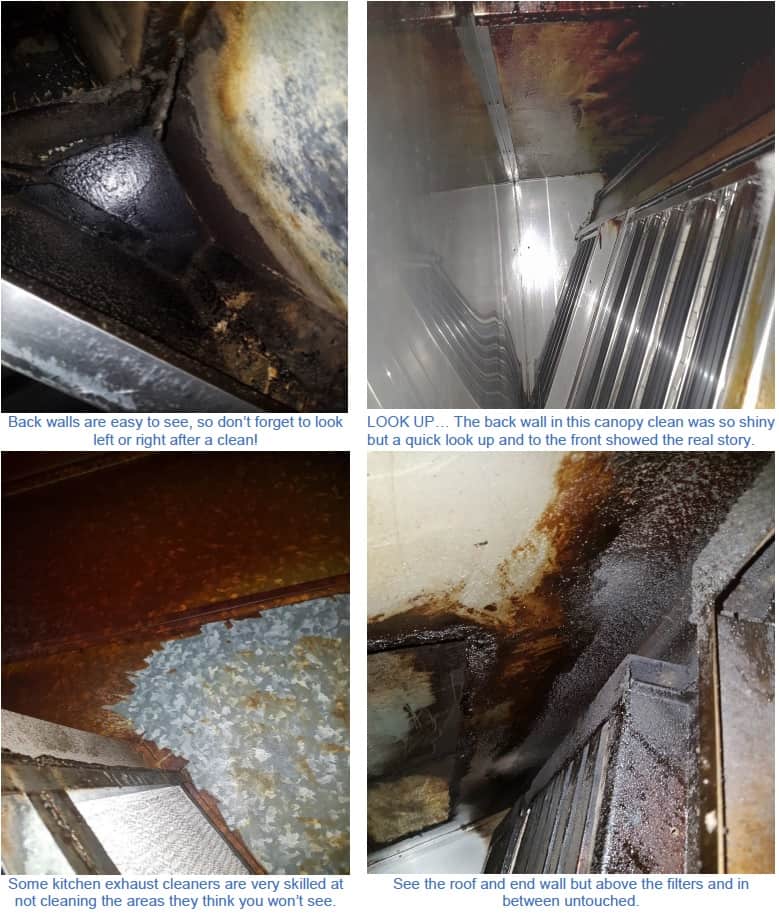 Whilst relying on these kitchen duct cleaners, many restaurant owners, hotel engineers etc. think that the certificate is enough for insurance purposes. But how wrong you can be when you realise the tricks that are used. Certificates will sometimes only state parts of systems, mention only where accessible, the fine print might state parts cleaned and leave out the other at-risk parts. They can have expiry clauses, not be dated, not have the location of the clean. Some don't even have details of the actual cleaning company on the certificate.
Certain cleaning contractors may seem more professional than others and thus try to justify higher prices, but don't be fooled… Memberships to organisations and/or claims of being certified does not ensure integrity. Memberships can be bought for a few hundred dollars, they have lapsed or maybe the owner of the company was once certified and trained but no staff have been.
Ultimately the responsibility is on the restaurant/food outlet owner, facilities manager and/or the hotel engineer. You need to know who you are using, what they are doing, how much it should cost and check the work prior to payment.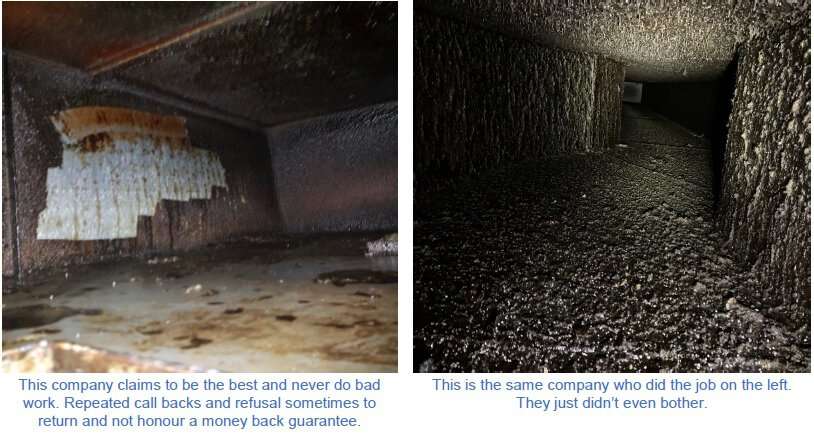 Don't just rely on photos and reports either, they can have the photos of previous years' work, don't show the angles of the unclean or inaccessible areas or worse they can even be photos of some other location's kitchen exhaust and fan.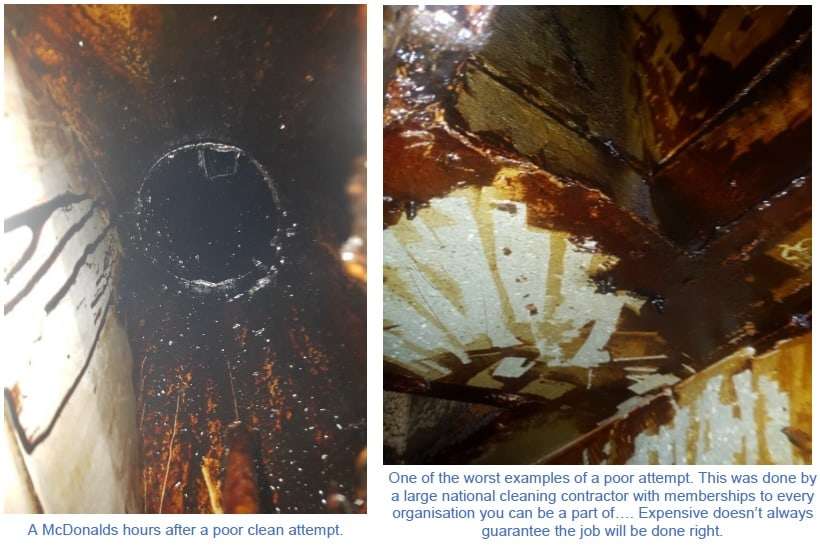 Don't be caught out like all these establishments overleaf. Every photo was from someone who had paid for their kitchen exhaust to be cleaned. What they got was what we now call FAKE KITCHEN EXHAUST CLEANING: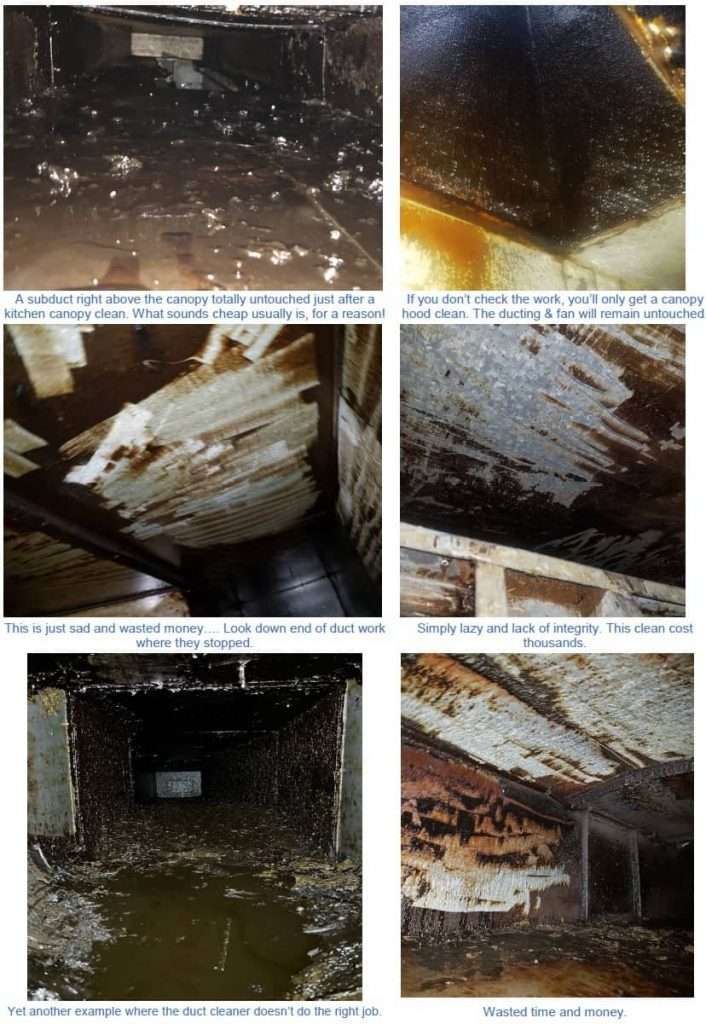 Take a moment to check our news updates and stay tuned for the next article on what happens when it goes wrong and you have a fire.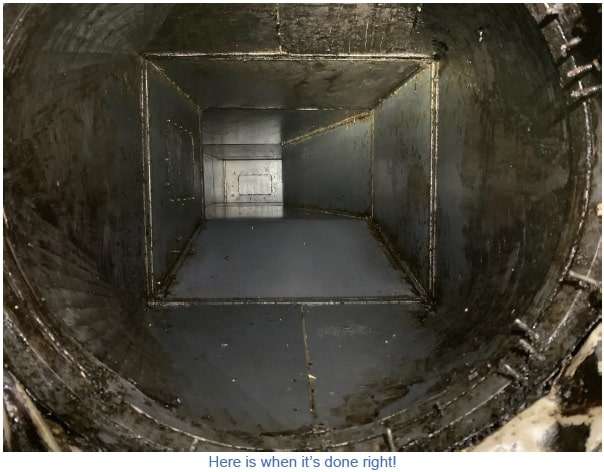 KITCHEN EXHAUST CLEANING SOLUTION
A clean system protected by the Shepherd Filters Solution means you can greatly reduce the extensive hood, canopy and duct cleaning required, which will see you saving for years. A simple mini spot inspection and clean only when required is all you will need to do. The images below show the inside of a hood protected by Shepherd Filters that remains very clean and any grease accumulation has been drastically reduced:
Prior to your next routine kitchen exhaust clean, contact Shepherd Filters for an obligation-free risk assessment.