KITCHEN EXHAUST GREASE DUCT CLEANING
A flawed system involves guessing as to when kitchen exhaust grease duct cleaning needs to occur and when it doesn't.
What is too much and what is not enough?
Moreover, one shouldn't have to check the cleaner's work was thorough and to standard!
KITCHEN EXHAUST GREASE DUCT CLEANING PROBLEMS
When it comes to kitchen exhaust grease duct cleaning, most Standards/Codes/Regulations state that hood and canopy cleaning is to be checked for excessive grease accumulation monthly (at a minimum). The duct and fan should be checked roughly every six to 12 months, depending on your insurance policy requirements. 
It's messy, disruptive and some kitchen exhaust systems are dirty again just one month after a clean when using traditional metal filters. Any excess build-up will put a store at risk for fire and can quickly build up in between cleans.
Many find kitchen exhaust grease duct cleaning to be costly. It is also important to check the work is done or cleaned properly. The responsibility can still be on the restaurant. Certificates issued by cleaning contractors with clauses or fine print can make the certificate worthless in the event of a fire and insurance companies may void the claim.
Shepherd Filters frequently inspects kitchen exhausts after getting cleaned and finds either:
What follows are true examples when inspecting systems just days after a clean: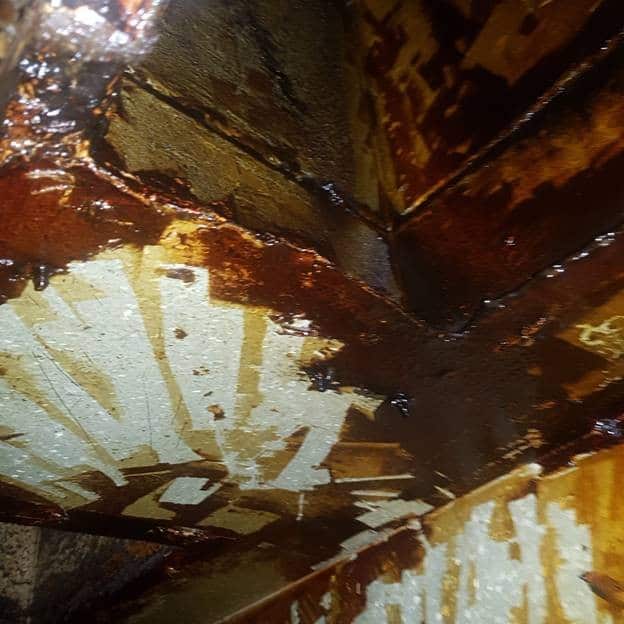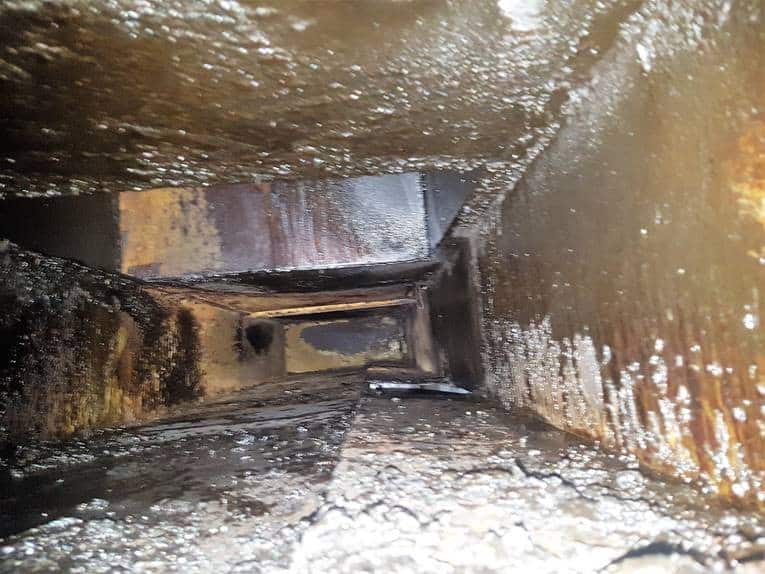 CANOPY, HOOD AND DUCT SOLUTION
Stop having to guess when your system is dirty by using Shepherd Filters! A clean system protected by the Shepherd Filters Solution means you can greatly reduce the extensive hood, canopy and duct cleaning required. This will ultimately help you save for years. A simple mini spot inspection and clean only when required is all you will need to do. The images below show the inside of a hood that remains very clean and any grease accumulation has been drastically reduced:

FILTER TRACK GREASE PROBLEMS
Another ongoing and messy task that is often overlooked or not fulfilled by filter exchange companies or staff. In general, most Standards/Codes/Regulations state that tracks/gutters are to be checked monthly. Left untouched, it also poses a fire risk. What follows are some images of tracks/gutters when not using Shepherd Filters: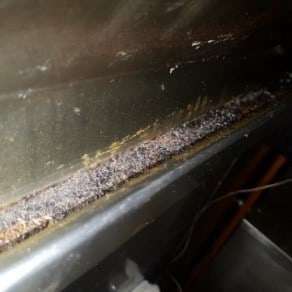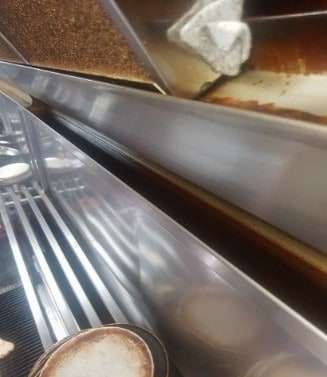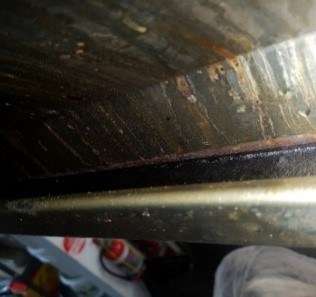 FILTER TRACK GREASE SOLUTION
Shepherd Filters hold the grease within the wool sheet, reducing the amount of grease draining into the tracks and in turn, reduces labour costs.
Below is a true example of using the Shepherd Filters solution: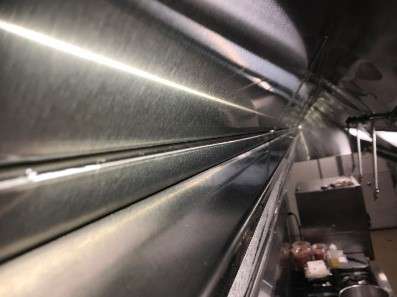 FAN / ROOF GREASE PROBLEMS
Grease accumulation on a fan can build up very quickly and go unnoticed. This causes unbalanced fans and excessive loading and affect airflow.
This also can result in a fan's premature failure.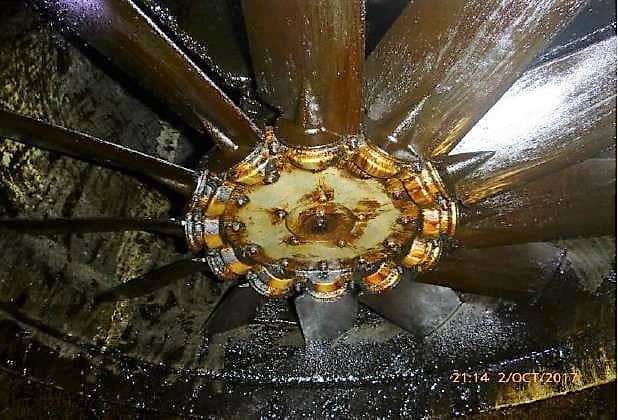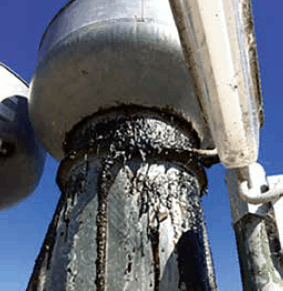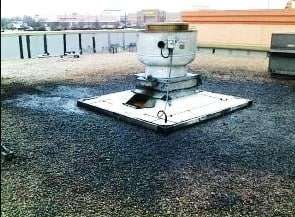 Shepherd Filters recently had a client that found out his kitchen exhaust system had never been cleaned properly. The lack of kitchen exhaust grease duct cleaning resulted the exhaust fan's inevitable failure.  The fan was replaced and proper cleaning of the entire system was carried out, but the loss of income due to his restaurant shutdown cost them over $30,000, which was not covered by insurance.
FAN / ROOF GREASE SOLUTION
Shepherd Filters greatly reduces grease from entering your kitchen exhaust system by up to 98%. The fan will not only stay cleaner, it will also extend its lifespan and improve the balance of airflow throughout your entire system. Rooftop and equipment i.e. HVAC coils, return air units etc. will not require the same frequency of cleaning and maintenance.