KITCHEN EXHAUST FILTERS EXPLAINED
What are Kitchen Exhaust Filters and why are they so important?
Commercial kitchen exhaust filters are the first line of defense to protect the kitchen exhaust system. It helps prevents grease accumulation and the subsequent risk of fire. Standards often require UL1046 approved frames to act as a flame barrier. Current honeycomb and mesh style filters do not comply, with countries like the USA and the UK having banned their use.
What's more, current metal kitchen filters only stop between 20-40% of the airborne grease. This allows the majority to pass straight through into your hood or canopy, duct and fan. This results in ongoing frequent costly cleans.
This is a frequent and ongoing problem that can be costly, disruptive and cumbersome for your business. 
Cleaning filters using a filter exchange company:
Cleaning filters in-house:
DISPOSABLE KITCHEN EXHAUST FILTER SOLUTION
Shepherd Filters wool filter media provides the best solution by capturing up to an impressive 98% of airborne grease. All before it enters your kitchen exhaust system! This ultimately leads to a cleaner system, all year-round. These disposable filters significantly reduce the need for you to clean filter frames. The amount of grease entering your kitchen exhaust system is also greatly reduced.
Our special stainless steel Shepherd Filter frames are easy to use and come with the peace of mind that they are: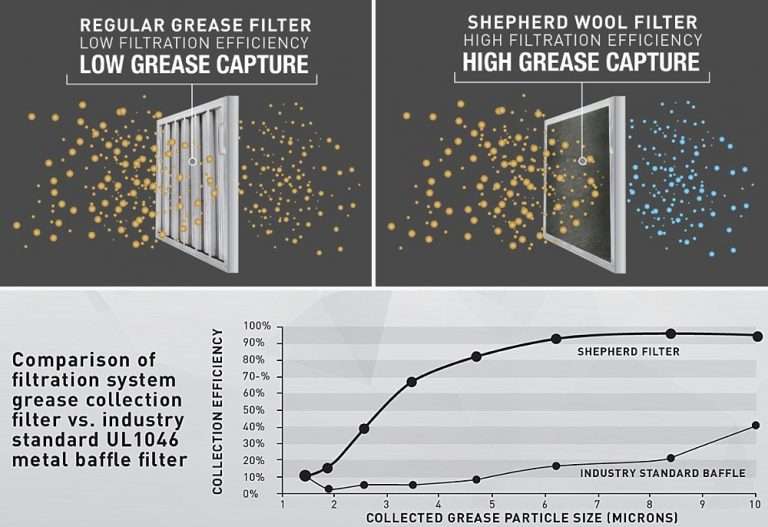 Shepherd Filters offer a time and money-saving solution in comparison. Our filters are easy for staff to change and are disposed in the regular waste bin within minutes.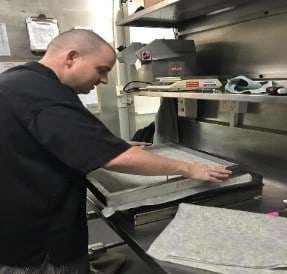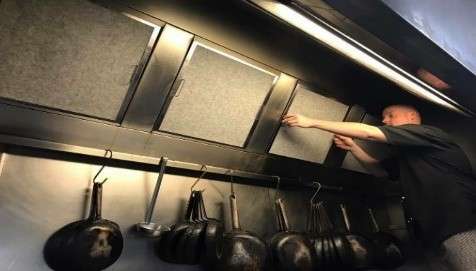 Shepherd Filters only take seconds to change, minutes a week.
EASY TO USE DISPOSABLE KITCHEN EXHAUST FILTERS
HOW OFTEN DO WE NEED TO CHANGE SHEPHERD FILTERS?
Frequency may vary based on:

The following image offers a more precise guide based on your circumstances.
We provide this filter change guide to all new installs, which is placed on the kitchen wall for your reference: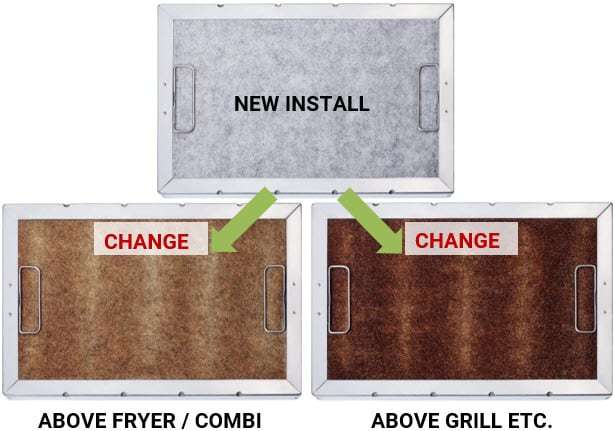 Below is an example of filters above grills/hotplates (left) and fryers/ovens (right):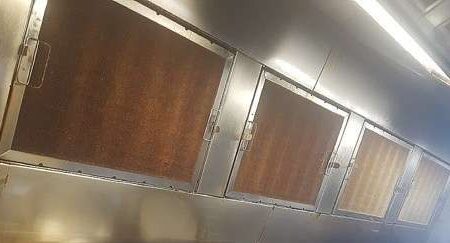 Notice the difference from left to right based the type of equipment being used.
SHEPHERD FILTERS FRAMES & SIZES
Shepherd Filters come as pre-cut sheets in all standard sizes to use with a specially designed frame, making the filters easy to use.