Grease hood filters are installed over cooking equipment and designed to capture and remove smoke, grease, and debris to prevent them from getting into the remainder of the kitchen exhaust system. Aside from particle filtration, however, they have a secondary purpose of fire safety – the
prevention of flames from entering the exhaust system. We'll examine two of the most common grease hood filters on the commercial market, Honeycomb and Baffle, by taking into account their advantages and trade-offs.
In the southern hemisphere, Honeycomb filters are possibly the most common grease hood filters on the market. Yet other types of commercial grease hood filters do exist. The 'baffle' design, for example, is gaining worldwide momentum in commercial kitchens due to recent updates to key standards, codes and regulations.
STANDARDS / CODES / REGULATIONS 
Within Australia and New Zealand, kitchen grease hood filters should meet the following current standards, which have been designed to help lower the likelihood that a cooking flare-up will cause ignition within the exhaust hood (grease fires):
AS/NZS1668.2 -2012: The use of air conditioning and ventilation in buildings – Mechanical ventilation (local exhaust ventilation of kitchens)
AS/NZS1668.1-2015: The use of ventilation and air conditioning in buildings – Fire and smoke control in buildings (kitchen exhaust hood systems); and
AS1530.1: Methods for fire test on building materials, components and structures – Combustibility test for materials
A number of international standards and codes also regulate grease hood filters overseas:
UL 1046: Standard for Grease Filters for Exhaust Ducts
NSF/ANSI 2-2014: NSF International Standard / American National Standard for Food Equipment; and
NFPA 96: Standard for Ventilation Control and Fire Protection of Commercial Cooking Operations
Within overseas markets (such as the USA and Europe), baffle style grease hood filters are the only design that meet stringent standards and codes for fire safety and grease drainage. Honeycomb-style grease filters DO NOT MEET these criteria are effectively BANNED in these markets.
FIRE SAFETY COMPLIANCE & THE AIRFLOW TRADE-OFF
The UL1046 test determines the ability of hood filters to "Limit the projection of flames downstream when subjected to flames on the upstream face, after having been loaded with grease in a manner representative of cooking that produces a grease-rich exhaust". A mesh/honeycomb filter that works by holding and capturing grease in place may not be effective, because this grease may act as a medium for the fire to pass through. Instead, a self-draining baffle filter with plenty of obstructions to the airflow, limits the passage of flames.
All metal grease hood filters vary in the way they obstruct the airflow, but generally the greater the obstruction, the greater the pressure drop. Honeycomb filters provide a lower resistance to airflow in comparison to the baffle filter design. Yet despite having a higher pressure drop, baffle filters should still be the outright choice for fire safety due to their ease of cleaning and higher efficiency, which lowers overall operating costs of the kitchen filtration system.
In short, a flame barrier baffle design is a fair "trade-off" for slightly lower airflow resistance.
SHEPHERD FILTERS
Shepherd Filters' baffle frames comply with all standards listed above and are sold around the world with confidence. Our number one priority is to provide our restaurant customers with the very best in both fire safety and grease capture technology. In order to combat even the finest particles of airborne grease, the Shepherd Filters solution eliminates up to 98% of grease build-up in and around the ventilation ducting and the fan, minimising the risk of fire and load more than ever before.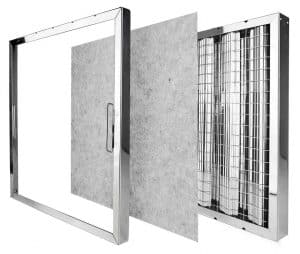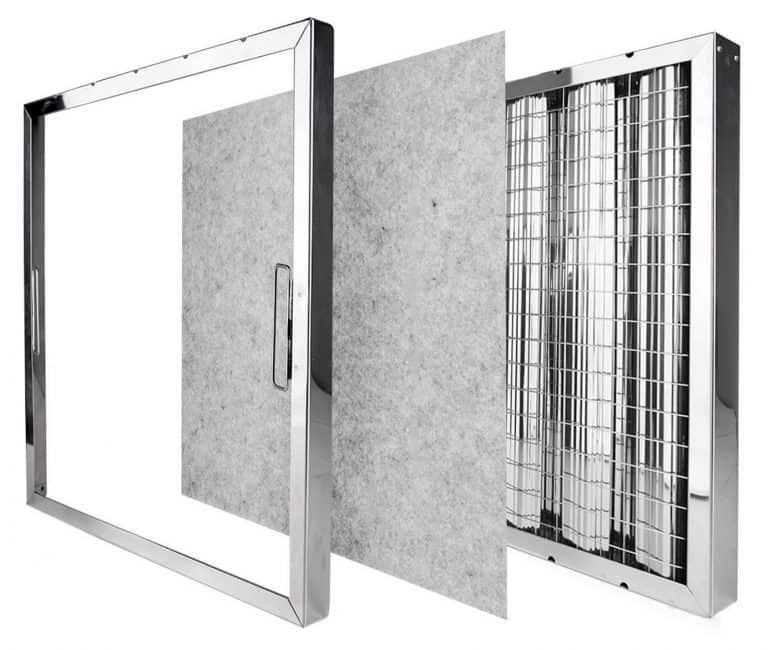 The Shepherd Filters wool media has little effect on airflow, less than 10-15pa depending on airspeed and this has been proven through extensive testing. Contact us today to learn more!