Your quarterly/semi/annual appointment with the contracted duct cleaning company is fast approaching. This routine kitchen exhaust maintenance may require someone to be on-site earlier and/or later than usual on the chosen day or in some cases, the restaurant may need to remain closed. Let's not forget that the fee for this essential service will most likely put a sizeable dent into the bottom line.
Is there a better way? Yes! By using Shepherd Filters, you can better control and manage kitchen exhaust (KEX) maintenance costs. Our product will not eliminate a visit from the duct cleaning contractor altogether but using Shepherd Filters can reduce both the frequency (x) and extent/complexity ($) of the routine service.
Won't Shepherd Filters cost the same or more? The cost of a Shepherd Filter media is directly comparable to:
Filter exchange service rates and/or
In-house filter cleaning.
Yet by switching to Shepherd Filters, commercial kitchens large and small eliminate the need for either of the above tasks! By stopping up to 98% of airborne grease right there at the filter, the potential for grease build-up inside the kitchen exhaust system is greatly reduced for the long-term. This means the KEX stays cleaner for much longer and routine KEX cleans reduce down to a mini/spot clean. Allow us to demonstrate, starting with a café: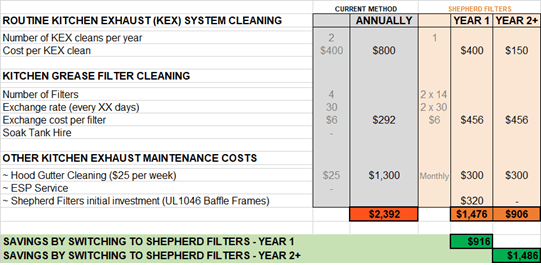 This cafe has two KEX cleans per year. Using Shepherd Filters, annual kitchen exhaust maintenance cleans reduce down to one: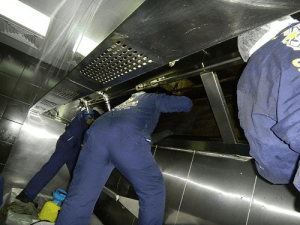 A filter exchange service replaces their filters monthly and their hood gutters are checked and cleaned once a week.
Using Shepherd Filters (per the filter change guide, which is based on trading hours, equipment and menu), filter change costs increased slightly by $105 per year. Switching to the Shepherd Filters solution also mean the cafe had a one-off investment in UL1046 stainless-steel baffle frames that are specifically designed to make Shepherd Filters easy to use.
Shepherd Filters still manages to save this cafe over $900 in the first year & nearly $1500 in years thereafter.
Let's also examine at a high-volume char-grill burger business: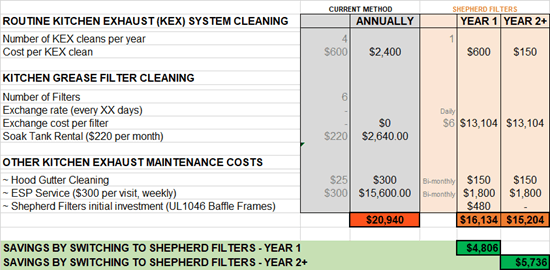 Due to the volume of trade, the style of menu and the equipment in use, this establishment requires a KEX clean every three months. They also need to use Electrostatic Precipitators (ESPs), which are serviced once a week. Using the Shepherd Filters solution, annual KEX cleans are reduced from four to one. Even though in-house cleaning through soaking filters is less expensive on initial comparison, using Shepherd Filters has helped reduce the amount of grease going through to the ESP's. Servicing these units thus changes from weekly to bi-monthly:
saving the business nearly $14,000 on that expense line alone!
Despite the savings afforded by cleaning filters in-house through soaking: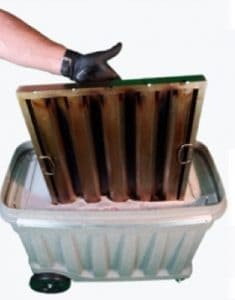 This process does drive up associated costs, so keep that in mind….
Associated Costs of Cleaning Filters In-House
Cleaning/soaking filters in-house attracts additional costs that need to be factored in, namely:
– Labour          – Water usage       – Chemical usage       – Energy usage         – Equipment maintenance
With Shepherd Filters, none of the above apply except for labour. An example of what the associated costs may look like when cleaning filters in-house is illustrated below:
NOTE: Figures are based on national averages within Australia, so it is always advised to take a moment and do your own due diligence by checking your last rates/bills.
Shepherd Filters' figures are modelled on the highest change rate possible (daily) as the example is based on the high-volume char-grill burger business. Most businesses we service, however, do not require daily changing, so labour costs would naturally come down.
In terms of labour, the initial findings when comparing the Shepherd Filters solution to the current soak tank method breaks even. However, once the other associated in-house cleaning costs are factored in, the result points in favour of making the switch.
With Shepherd Filters, businesses:
Avoid harsh chemicals (helps the environment)
Save on water
Save on the energy costs
Minimise load on equipment & filters
Minimise messy tasks that staff dislike:
Because standard metal filters only stop between 20-40% of airborne grease at best, most of the grease is allowed to bypass the filter and builds up inside the KEX. Built-up grease slowly gets extracted further into the system and eventually, onto the roof, where it becomes:
A potentially devastating fire hazard
A food safety & hygiene risk
Affects airflow and temperature in the kitchen
Unnecessary load on equipment (i.e. fan), reducing the potential lifespan
Has the ability to start affecting the structural integrity of rooftops if left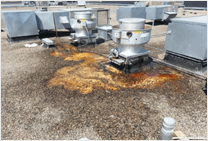 This attracts unnecessary maintenance and or/replacement work that could see a business needing to close for a day(s):
With Shepherd Filters, your KEX and rooftop stay clean well into the foreseeable future.
Routine duct cleans turn into mini/spot-clean inspections performed only once a year and the need to repair and maintain equipment and structures is minimised.
This solution also saves businesses time and eliminates the stress that comes with tackling mechanical/structural issues.

Conclusion
Examples of how two vastly different commercial foodservice businesses manage grease have been provided and compared to Shepherd Filters. In both of these cases, filter cleaning costs actually increased when switching to Shepherd Filters, although this is not always the case.
On taking a closer look, however, the costs associated with both cleaning in-house (labour, utilities, chemicals) and the need for other systems and services (ESP and gutter cleaning) should always be factored in when comparing products and services.
This case study highlights how the biggest advantage of Shepherd Filters is in the products ability to:
– Heavily reduce duct cleaning costs because of its high grease-capture rate
– Minimise the need for additional systems and services (ESPs and rooftop grease containment); and
– Heavily reduce repair/maintenance/replacement costs
Every business is unique and should be treated as such. If anything, the hope is that this study motivates readers to take a moment to review their books, do their kitchen exhaust maintenance due diligence and consider alternatives that may improve both business practices and their bottom line.
If you want to learn more about how the Shepherd Filters solution could benefit you, then please don't hesitate to contact us for an obligation-free assessment.