Grease – One of the Leading Causes of Fires Still Today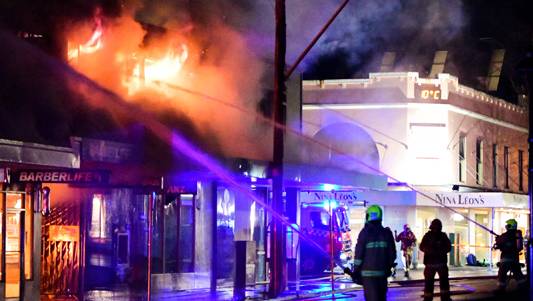 Fires caused by grease build-up within kitchen exhaust systems continue to be the leading cause of restaurant fires, but they don't have to be. With a proper understanding of this important system's needs, both lives and businesses (like the ones in this story) can be saved.
This story raised immediate concerns as to whether this was a kitchen-related fire incident that spread into the exhaust system, where grease build-up may have caused it to escalate.
Locals said the fire had initially broken out in the town's beloved Dos Hombres Mexican restaurant. People lined the streets to watch fire crews battle a huge fire burning in a number of shops along a popular Bowral shopping strip.
Emergency services responded to reports of a fire at a Mexican restaurant on Bong Bong street in Bowral CBD around 9:00pm on Thursday.
It took more than 30 firefighters over four hours to extinguish the blaze, according to ABC News.
"They have done an incredible job in some really trying conditions," said Fire and Rescue NSW Superintendent Luke Unsworth.
Up to 12 individual neighbouring shops were also damaged in the fire and there were fears the whole building might collapse. "The structure of the building is likely compromised and there is a chance that certain parts of it could collapse.
"We are going to be assessing the structural integrity of the building for fear it might actually require some demolition work," he said.
Multiple stores on the block including several in the Highlands Arcade are believed to have been destroyed by the fire.
The owner of a secondhand book store Leura Books Phillip Israel said his business had been completely destroyed. "There's absolutely nothing left of my store,"  Mr Israel said.
"My shop is just totally and utterly gone. It is pretty devastating."
Mr Israel said he raced to his store last night when he received the news that the building was on fire.
"When I was there last night there was a lot of smoke and all of sudden this fireball came through."
Bong Bong Street remains closed between Merrigang Street and Boolwey Street and will be for some time. Local police and fire crews remain at the scene and will investigate the circumstances surrounding the fire.
Witnesses claim the fire has spread throughout the densely populated building through the roofing to badly damage nearby businesses.
How to Minimise Grease Build-Up
Thousands of restaurant fires are reported annually. It's estimated that as many as 64 percent of them are caused by grease build-up in kitchen exhaust (KEX) systems. What's more, this is an especially dangerous type of fire when it enters the ducting, where it becomes even more difficult and dangerous to suppress. Structures with a fire propelled within interior ceilings (roofing) and/or walls often suffer massive damage throughout the entire building, or are total losses.
If you think your KEX system does not meet current standards or represents a fire risk, you should contact an HVAC professional or kitchen exhaust ventilation company to do a fire risk assessment.
Find out what your obligations are and how frequently you should be checking and cleaning the kitchen exhaust system, based on your local, state, and national regulations.
The team at Shepherd Filters also has some additional tips: