Insurer Seeks To Recoup $3m From Restaurant Duct Fire Coverage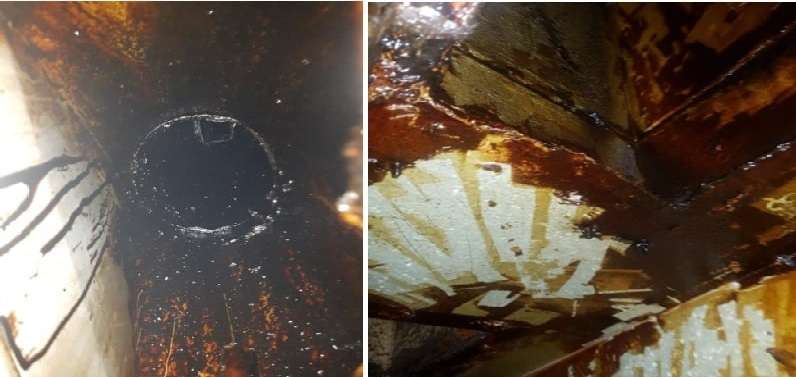 This article was originally published by Jennifer Mandato and is being shared on our blog to help raise awareness on the importance of checking your duct cleaning contractor's reports and also undertaking a physical inspection post-clean.
Ohio Security Insurance is seeking $3 million from a North Carolina duct cleaning company after the company allegedly failed to properly clean the ducts of Rooster's Wood-Fired Kitchen Restaurant, allowing an excessive amount of grease to build up and ultimately causing a three-alarm fire in 2019.
Rooster's owner, Nobles Restaurants LLC, hired Fire Control Systems Inc. to perform monthly inspections and steam cleaning of the kitchen exhaust hoods and ductwork at the restaurant. Each month, however, the duct cleaning contractor would only clean portions of the ducts down to the industry-standard bare metal. By neglecting the rest of the system, Fire Control allowed the excess grease to grow further into a fire hazard, according to the complaint.
Ohio Security said in its complaint, filed Jan. 27 in the Western District of North Carolina, that Fire Control would send photos after each visit, but the pictures only reflected the few cleaned sections of the ductwork.
Ohio Security alleges in the complaint that Fire Control's intent was for Nobles Restaurants to rely on the photos as representing the condition of the entire duct system, despite knowing that the system hadn't been thoroughly cleaned in months.
On Sept. 30, 2019, a mid-afternoon fire broke out, causing extensive damage to the kitchen and the rest of the restaurant, according to the complaint.
Ohio Security paid Nobles Restaurants $3 million to cover the fire damage under the company's property and casualty policy. Now, the insurer is asking the court to rule that Fire Control has to repay the money, because of the cleaning company's alleged misconduct.
Ohio Security alleges Fire Control acted negligently, as it failed to uphold proper cleaning standards and comply with applicable building and fire codes. Because of this, Fire Control allowed dangerous conditions to exist at Rooster's.
Before retaining the cleaning company, Fire Control provided Nobles with information that the entire hood and ductwork would be completely inspected and cleaned to industry standards. This misrepresentation continued after each monthly cleaning with Fire Control's documentation of its services, the suit alleges.
Ohio Security also claims that Fire Control's failure to uphold satisfactory cleaning levels is a breach of the verbal contract with Nobles.
A spokesperson for Nobles declined to comment on the matter. Counsel for Ohio Security did not immediately respond to a request for comment.
Hidden Clauses That May Come Back to Haunt
Frequently, systems are cleaned by either independent operators or large reputable companies. Some provide reports and certificates that on the face of it seem legitimate but may have hidden clauses such as "cleaned  where accessible" or "canopy clean only", indicating that they were not responsible for the duct etc. Sometimes it's just a simple matter of looking up, inside and not just through a filter hole. Sometimes, access panels are required to get the job done. Other times, contractors are doing just enough to get the right photos for reports. Moreover, the first time they might do a good job to impress but subsequent clean standards are sometimes  lower. Therefore, checking your duct cleaning contractor's reports and also undertaking a physical inspection post-clean is very important.
There are many ways for the contractor to limit their liability, and below are several examples:
If an owner/manager is not sure what they should be checking for, then seeking help from an independent auditor is strongly advised before paying the invoice.