Belfast Hotel Fire Causes Serious Damage to Rooftop Bar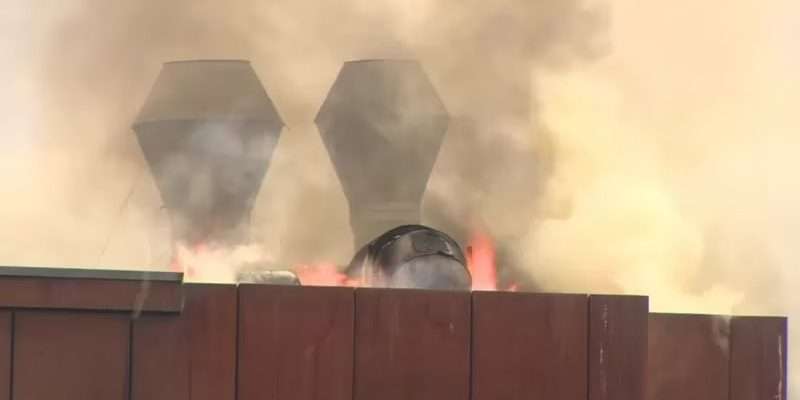 A fire at the Bullitt Hotel in Belfast has caused serious damage, its owner has said.
Conall Wolsey, from owners Beannchor Group, said the kitchen and plant room, at the rooftop bar of the hotel, have been destroyed. "There is severe smoke and water damage to the building," he said.
He added that it could have been a lot worse, paying tribute to the fire service for their "speedy response." The hotel is closed and will be for the rest of the week, according to the BBC.
Mr Wolsey said engineers would assess the structural integrity of the building before anyone would be allowed back in. The Northern Ireland Fire and Rescue Service (NIFRS) said the fire could have spread to other buildings.
Group Commander David Harbinson told BBC News NI that firefighters had worked to stop the fire spreading across the roof. "It originated on the top floor and once it breached through the roof the oxygen started to feed the fire," he said. Mr Harbinson said the fire was being treated as accidental.
"We believed, from information we were given, that it was spread through an extraction system."
"There was some smoke damage and water damage but this could have been a much more serious incident if it hadn't been for swift action of firefighters," said Mr Harbinson.
The fire caused widespread traffic disruption during one of the busiest periods of the day for road users in the city centre. Victoria Street was reopened on Tuesday night, having been closed between Ann Street and High Street while the fire was dealt with.
How to Prevent Grease Fires
There continues to be fire incidents involving the mechanical extraction systems of commercial kitchens. Given the presence of heat and high fuel loads, fires in kitchens are not uncommon. However, when the incident extends into the mechanical exhaust system, safety risks and building impacts can rapidly escalate, sometimes resulting in devastating and widespread damage.
These high-intensity fires move and spread rapidly, are difficult to locate and extinguish, and are susceptible to remote re-ignition and break-out. The single most important thing you can do to keep your systems safe is to regularly inspect and keep the system clean. Make sure you are correctly insured, and discuss with your cleaning contractor any safety hazards or compliance issues in your system.
Shepherd Filters have tackled the problem and now provide a safe, reliable, simple solution for the marketplace that substantially reduces the grease load, improves hood-system maintenance, prevents fires, and helps manage fire risks while lowering costs — a solution that retrofits very easily within existing kitchen systems.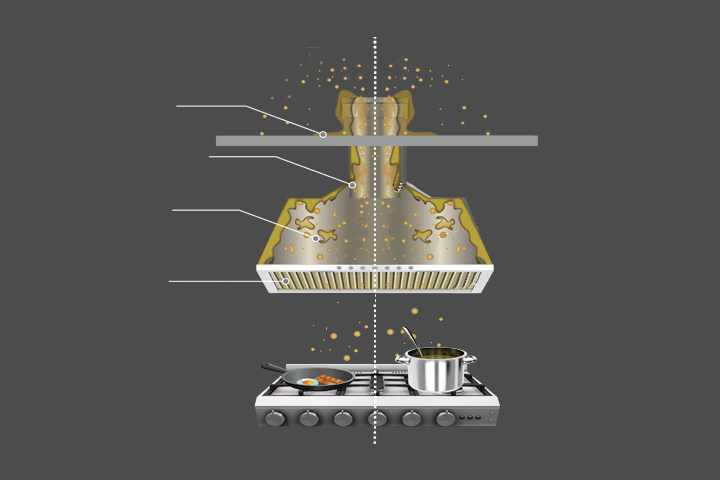 As opposed to metal kitchen grease filters that only stop 20-40% of grease vapours from entering the hood, Shepherd Filters capture up to an impressive 98%! This reduces the grease build-up that enters the plenum, ductwork, fans, and roofs dramatically and therefore minimises the risk of fires.
Quick, easy to install and disposed of in seconds, changing Shepherd Filters is a welcome alternative to degreasing filters. With grease build-up heavily reduced between cleans, savings are made to:
– Labour/contractor costs associated with metal grease filters and exhaust systems
– Reduced frequency and complexity of kitchen duct cleans
– A reduction in water usage and harsh chemicals to maintain a clean kitchen exhaust system; and
– Cleaner rooftop fans, HVAC and other extraction equipment, resulting in efficient operation, less maintenance and energy savings.
Shepherd Filters are made from 100% wool, a renewable resource, the filter media is carbon-neutral and will break down in landfill.
Contact us today to find out if the Shepherd Filters solution can benefit you!