Kitchen Exhaust Grease Fire in London Shop
A fire that seems to have been caused by the ignition of grease within the kitchen exhaust system needed 10 fire engines and around 70 firefighters at a shop with flats above on Uxbridge Road in Shepherd's Bush.
Part of a ground-floor shop and a five-roomed flat on the first floor of the building were alight.
A child, a man and two women left the property before the London Fire Brigade arrived and were treated on scene by London Ambulance Service crews.
Station Commander David Reed, who was at the scene, said:
"The fire was producing heavy smoke in the local area. Residents were advised to keep their windows and doors closed. Firefighters used one of the Brigade's 32-metre turntable ladders as an observation tower and thermal imaging cameras to check for fire spread. Uxbridge Road is closed between Devonport Road and Ingersoll Road whilst crews continue to work to make the scene safe. Please avoid the area where possible."
The Brigade was called at 15:57 and the fire was finally under control by 19:13. Fire crews from Acton, Paddington, Richmond, Wandsworth and surrounding fire stations attended the scene.
Risks and Mitigation
When a commercial kitchen is located in a larger building such as a multi-story residential development, the risks increase exponentially. A fire in a kitchen exhaust system in Heathrow Airport shut down three terminals, delayed or cancelled hundreds of flights, and generated hundreds of millions of dollars in losses that far exceeded the physical damage bill. That fire spread through 200m of exhaust ductwork to a plantroom before it was extinguished.
As the cooking process generates grease or oil, it is a legal requirement that kitchen exhaust filters or grease removal devices are installed to reduce the amount of grease from entering the kitchen exhaust duct. The more build-up that is found within the system, the higher the risk of fire. Grease filters cannot prevent grease entry into the kitchen exhaust system entirely, but they can reduce levels and extend the length of time required between duct cleaning.
The Shepherd Filters solution will capture up to 98% at the filter. This reduces the grease build-up that enters the plenum, ductwork, fans, and roofs dramatically, which minimises the risk of potentially catastrophic fires.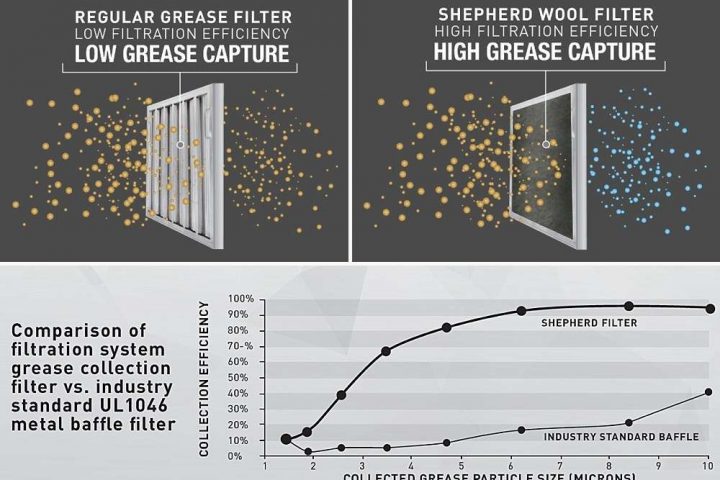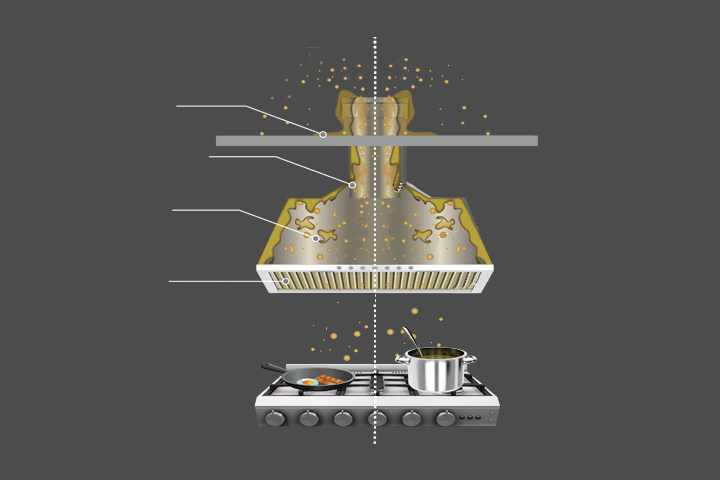 With grease build-up heavily reduced between cleans, savings are made to:
Quick, easy to install, and disposed of in seconds, changing Shepherd Filters is a welcome alterative to degreasing filters. Your staff will appreciate the difference to their daily routines.
Find out more today by contacting us!