Shepherd Filters was honoured to be crowned 

"PRODUCT OF THE YEAR"

 for its revolutionary disposable kitchen grease filters at the 2019 AIRAH Awards in Sydney this evening.
AIRAH
is an industry-led organisation that represents the entire HVAC&R value chain, from tradespeople onsite through to professional engineers and business leaders.
It was very humbling to be amongst more than 300 hard-working individuals from Australia's HVAC&R industry, a record turn-out.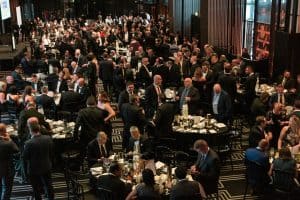 Our Managing Director Jeremy Kronk accepts this award with humility, gratitude and the deepest respect. The accolade represents several years of hard work and dedication towards an important cause close to Jeremy's heart, given his own harrowing experience as a burn's victim.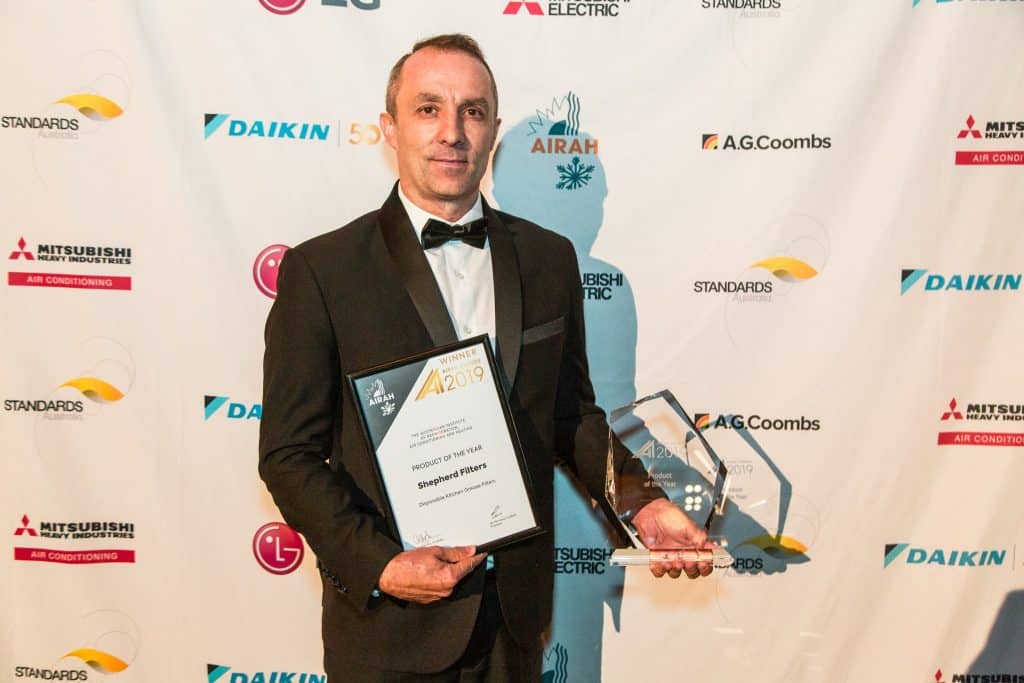 Grease accumulation in hood / exhaust systems is a hallmark of commercial kitchens around the world. Until very recently it has been all but unavoidable, and even today remains a serious management and safety problem. Grease accumulation within and around the exhaust system poses a bio hazard, a risk to kitchen cleanliness and sanitation, and a serious fire risk for operators, property owners, employees, insurers, and patrons.
Methods for managing and removing grease from hood systems have remained essentially the same for over a hundred years. They include labour-and-water-intensive, chemical-based cleaning processes administered by employees and professional cleaning services. Traditional grease-removal methods are time consuming, disruptive, and involve significant costs. Ensuring safety and complying with regulations also require routine inspection of kitchen exhaust ducts and components by certified third-party hood-cleaning companies, usually on a quarterly basis, at significant expense.
The nature of the problem and the limitations of existing grease-control efforts have left the industry yearning for an affordable and simple mechanism that can substantially reduce kitchen-exhaust system grease loads without disrupting or altering existing kitchen equipment. This is especially true for today's high heat, high-volume commercial kitchens that run with smaller staffs on tight budgets. These operations need reliable grease-capture and risk-reduction efficiencies to match. For those seeking to avoid today's cumbersome and expensive cleaning methodologies, the good news is that new grease-filtration technology recently introduced into the market by Shepherd Filters offers real control over grease never before available to commercial kitchen operators.
Shepherd Filters have tackled the problem and now provide a safe, reliable, simple solution for the marketplace that substantially reduces the grease load, improves hood-system maintenance, prevents fires, and helps manage fire risks while lowering costs — a solution that retrofits very easily within existing kitchen systems.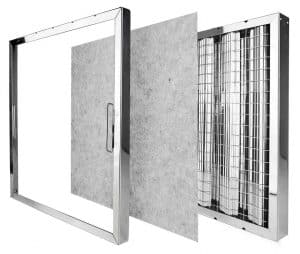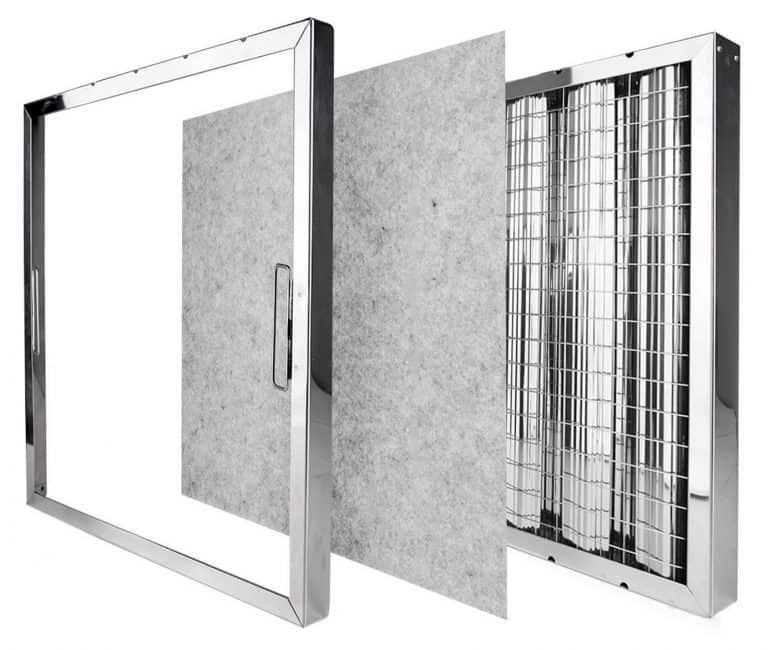 As opposed to metal kitchen grease filters that only stop 20-40% of grease vapours from entering the hood, Shepherd Filters capture up to an impressive 98%! This reduces the grease build-up that enters the plenum, ductwork, fans, and roofs dramatically and therefore minimises the risk of catastrophic fires.
Quick, easy to install and disposed of in seconds, changing Shepherd Filters is a welcome alternative to degreasing filters. With grease build-up heavily reduced between cleans, instant savings are made to:
Labour/contractor costs associated with metal grease filters and exhaust systems
Reduced frequency and complexity of kitchen duct cleans
A reduction in water usage and harsh chemicals to maintain a clean kitchen exhaust system; and
Cleaner rooftop fans, HVAC and other extraction equipment, resulting in efficient operation, less maintenance and energy savings.
Shepherd Filters are made from 100% wool, a renewable resource, the filter media is carbon-neutral and will break down in landfill.
In accepting this accolade, we are now more determined than ever to continue with our mission of making commercial kitchens around the world safer and more efficient, one kitchen exhaust at a time.
Contact us today!