Third Strike for Restaurant Over 11 Years
A fire broke out during dinner service at a popular Sydney restaurant, forcing diners to flee to the street to escape the blaze.
A popular Turkish restaurant in Enmore, Sydney was evacuated during dinner service on Tuesday night after a fire overwhelmed the building. Flames seen coming from the building's roof according to news.com.
Ten people eating dinner at the restaurant were forced to flee to the street to escape the fire, which started in the chimney. This is not the first time a fire has broken out at the restaurant. Twitter users have reported a fire at the Enmore Road institution on two other occasions in the last decade:
7th November 2015
6th December 2011
Crowds descended on the busy shopping strip and watched on as the flames engulfed the building. Local woman Renee Sundgren told Nine News that she was eating ice cream across the road when she heard a loud noise.
"It was a big bang and the whole sky lit up," she said.
"The whole roof was heavily on fire."
A diner told Ms Sundgren that they were told to "grab your drinks and leave".
"I went over to the restaurant next door to tell them Sultan's was on fire, so they could turn their kitchen off."
Enmore Rd was closed while emergency services worked to extinguish the flames. There were no injuries during the incident and everyone was accounted for.
What you should know
Duct fires can be intense and reach temperatures of 1,000°C within minutes – hot enough to melt some metals and ignite surrounding combustibles. Fire statistics from Australia, the UK and the US show that fires in restaurants continue to predominately occur in kitchens. The ignition of cooking materials accounts for almost half of all commercial kitchen fires and almost all of these (90 per cent) get into the kitchen hood exhaust system. Many restaurants never re-open after suffering a fire loss. Insurance policies may exclude claims related to uncleaned or grease-laden exhaust ducts. Insurers are aware of these fire risks – are you?
We have come up with a handy checklist that will help to ensure you get what you need and what you ultimately are paying for!
Prevention is better than the cure
Grease and oil build-up starts at the metal kitchen grease filters before being extracted into the hood, ducting, fan and eventually, the roof.
At best, these metal kitchen grease filters only capture between 20-40% of airborne grease, leading to a hazardous build-up that needs to be cleaned off on a regular basis in order to stay compliant, minimise fires, and covered by insurance. It's an ongoing problem that needed an easy and cost-effective solution.
Enter Shepherd Filters, that capture up to an impressive 98% of grease before it even has the chance to penetrate the rest of the kitchen exhaust system.
Made from 100% bio-degradable and fire-retardant wool, you can rely on Shepherd Filters to ensure your system stays cleaner for longer: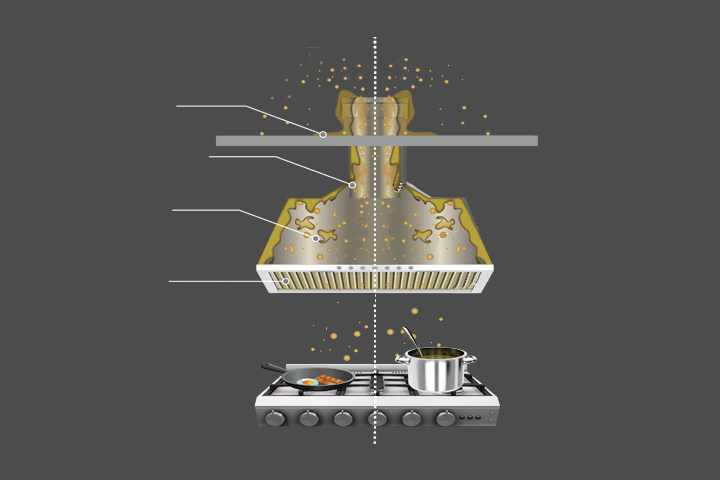 Savings on routine cleaning begin immediately and the risk of fire also diminishes dramatically. Made from wool, Shepherd Filters are fully biodegradable and a renewable resource.
Protect your business and help the environment with a clean kitchen exhaust every day.