The costs associated with café and restaurant ownership are [unfortunately] plentiful, especially when it comes to kitchen exhaust maintenance. The temptation to defer such costs and take a 'reactive' approach when a kitchen exhaust problem arises are high, especially in these extraordinary times. So how do we go about flattening this costly curve?
Undoubtedly, one of the biggest ongoing expenses in a restaurant or cafe is the kitchen exhaust maintenance cleaning. Keeping this vital system grease-free is a legal requirement that must be done routinely. Costs can range from hundreds to thousands of dollars so understandably, restaurateurs are always looking to keep hood cleaning costs to the bare minimum.
It is a large periodic cost that regularly causes that sinking feeling, better known as quote/bill shock. As the old saying goes, "you get what you pay for", so opting for the cheapest quote could potentially be a waste of your time and money. You may also be putting your business (and those who use it) at risk.
"So how can I keep up with restaurant operating expenses and still make a profit?"
Whether you are a new or veteran restaurateur, there are ways to lower your maintenance costs without compromising on safety, compliance or functionality. Remember, your business is an investment that only pays dividends if you take care of it.
Preventative maintenance, like duct cleaning and exchanging kitchen grease filters, will allow your kitchen exhaust system to run at peak efficiency for longer. The additional added life is not only saving on maintenance costs in the long-run, but also an added value to the life of your restaurant. Proper equipment maintenance will also help to reduce energy consumption costs.
In short, if you don't properly maintain your kitchen exhaust system, it will impact not only your employees but also your revenues. The key to profitability is in:
Proper Planning
Establish or review your preventative maintenance plan. When you neglect preventative maintenance, you are ultimately creating a new purchase. The longer your existing equipment, therefore, remains efficient, the lower your maintenance costs will be!
The Right Mindset
View your kitchen exhaust system in the same way you would your car: service it regularly to prevent a sizeable one-off repair or replacement that could cost you thousands of dollars.
Due Diligence
When it comes to grease build-up in your exhaust system, the first line of defence is the kitchen grease filter. Since the dawn of commercial kitchens, these metal filters have only intercepted 20-40% of said grease and this is why kitchen exhaust cleaning is a must. For the last five years, Shepherd Filters (SF) have helped commercial kitchens large and small capture up to an unprecedented 98% of airborne grease BEFORE it has an opportunity to build up inside the exhaust system! What this means for you:
No more kitchen grease filter cleaning/filter exchange
Less grease build-up reduces the frequency of costly routine duct cleaning maintenance; and
Instead of being hit by large exhaust cleaning bills, Shepherd Filters enables businesses to

spread the costs of kitchen exhaust maintenance over time: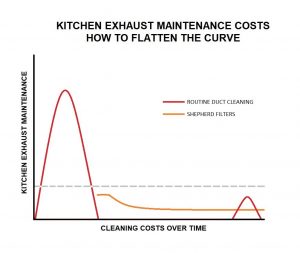 To find out if we can help you flatten the curve, contact us today!